Power vs. Force: Summary Review & Takeaways
This is a summary review of Power vs. Force containing key details about the book.
What is Power vs. Force About?
Power vs. Force is a thought-provoking book. It presents that every act, thought, and choice - our decisions can affect the lives of everyone. We think we live by forces we control, but in fact we are governed by power from unrevealed sources, power over which we have no control.
Who is the Author of Power vs. Force?
Sir David R. Hawkins, M.D Ph.D. is a bestselling author, a nationally renowned psychiatrist, physician, researcher, spiritual teacher, and lecturer. The uniqueness of his contribution to humanity comes from the advanced state of spiritual awareness known as " Enlightenment," "Self–Realisation," and "Unio Mystica."
How long is Power vs. Force?
Print length: 341 pages
Audiobook: 8 hrs and 10 mins
What genre is Power vs. Force?
Psychology, Nonfiction, Spirituality
What are key takeaways from Power vs. Force?
Takeaway #1 Force Is Not Power
We have been conditioned to think that force is power I.e. by controlling others but force is a false material level that always has to be backed up by a reason. True power comes from the spirit and is attained through personal development and spiritual practices.
Takeaway #2 Force Is Needed
Force is necessary, in small doses, because you cannot get power without first using some force. Force creates the momentum – just think about this, to be brave, you first need to be scared and to be powerful, you first need to feel powerless... It takes force to create a change. But only a little of it is needed, once force has done the legwork, momentum takes over and once power has been achieved force crumbles.
Takeaway #3 Finding Your Energetic Frequency
Are you operating from a state of force or power? Based on his research into kinesiological measuring of consciousness, David Hawkins shows us that our energetic frequency levels of consciousness pertain to a variety of emotions and these emotions all depend on the amount of truth. Force is re-active and below the level of courage, it arises when we feel shame, fear, anger, and pride. Power is above the level of courage and is pro-active, it comes when we operate from a higher consciousness of love and live with courage, will, and reason.
If you find yourself operating from force more often than power don't worry, you can make positive changes in moving towards your true potential simply by leaving the feelings of blame, hate, and anxiety behind and instead switching to affirmation, optimism, and trust one step at a time.
Through David Hawkins' study of kinesiology, you'll learn how to use muscle testing to determine a truth or a falsehood by asking a yes or no question. This can be done time and time again to make you spiritually sound, healthy, and strong so that you're being true to yourself, acting from true power and not living by force through your ego.
Is Power Vs. Force Worth Reading?
The majority of customer reviews on leading review sites are positive. Here's what some reviewers had to say about the book:
"One of the most interesting self-help type books I've ever read. It's packed with advice on how to stay in good physical, mental and spiritual shape. It's like a toolkit with all sorts of good advice on how to live your life." (Stephanie Beacham, Editorial review)
"Power vs Force is the culmination of a lifetime's work and study, a brilliant fusion of the mystical and the scientific, and the most thorough exposition yet of the art of kinesiology and its connections with both the new physics and ancient Eastern philosophy." (From Publisher)
"This is a discourse of what it means to understand and act upon one's intuitive and higher mind capabilities. The premise is that our bodies will respond to things that are "true" or have power, with a level of ease. Alternatively, when something is "false" it will have an element of forced nature to it- trying to make something that it isn't or shouldn't be. I appreciated the simplicity of the conversation and also the scale in which we move through the levels of that sensitivity. It is not a scale to be graded on, as some reviewers may suggest- but rather a road map of how far we have ascended from complete unawareness.." (From LibraryThing)
* The summary points above have been sourced and summarized from the book, Amazon, and other online publishers. The editor of this summary review made every effort to maintain the accuracy and completeness of any information, including the quotes, chapters, insights, lessons, and key takeaways.
Chief Editor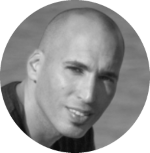 Tal Gur is an impact-driven entrepreneur, author, and investor. After trading his daily grind for a life of his own daring design, he spent a decade pursuing 100 major life goals around the globe. His journey and most recent book, The Art of Fully Living - 1 Man, 10 Years, 100 Life Goals Around the World, has led him to found Elevate Society and other impact-driven ventures.