The War of Art: Summary Review & Takeaways
This is a summary review of The War of Art containing key details about the book.
What is The War of Art About?
The War of Art inspires its readers to defeat "Resistance" - their one true foe that prevents them from being successful in creative professions. The War of Art highlights the forms of resistance faced by artists, entrepreneurs, athletes, and others who are trying to break through creative barriers. The book not just identifies resistance as the "enemy", but it also provides a way to overcome these hurdles to achieve creative success.
Who is the author of The War of Art?
Steven Pressfield is an American author of historical fiction, non-fiction, and screenplays. He is a master of historical fiction with Gates of Fire being on the required reading list at West Point and the recommended reading list of the Joint Chiefs.
How long is The War of Art About?
Print length: 168 pages
Audiobook: 2 hrs and 29 mins
What genre is The War of Art?
Nonfiction, Writing, Self Help, Art, Business, Personal Development
What are key takeaways from The War of Art?
Takeaway #1 Resistance Affects Everyone
How many times have you had an 'aha moment', a calling that you haven't acted upon? Whether your idea was to start a business, get fit, give up your job to travel the world, or write a book, you likely had something holding you back. That 'thing' is called resistance and it naturally affects everyone when they seek to do or try something new. It's your inner voice that say' 'I'll start tomorrow' or 'No, I couldn't'.
Takeaway #2 Weakening Resistance
To weaken and ultimately, overcome resistance you first have to accept it. Don't let it stop you, don't let the self doubt creep in, just acknowledge that everyone feels resistance and that you must continue to commit to and focus on your dream. Feeling resistance means you're on the right path so use the fear to motivate yourself, to recognize that this idea is something you're passionate about and that's why you're afraid of failing.
Takeaway #3 Going After Your Dream 24/7
Resistance is weakened when you're organized and persistent in achieving your dreams. If you're working on your dream/goal haphazardly, a couple of hours each week or whenever inspiration strikes (probably not that often!), you're not dedicated enough to making your dream or goal happen. Even when you're working full-time you can carve out time to work on your passion project whether that's during your commute, once the kids are in bed, or even whilst you're at work.
Discipline yourself so that you're really and truly working hard towards your goal and don't let setbacks stop you – Hard work and dedication are what make dreams become a reality so ,by all means, follow that creative madness when it seizes you. When you're not in that energetic flow, carry on anyway - Set realistic goals, learn your limitations and get others to help you or teach you. When you focus on the work process and recognize that it's a long slow journey full of adversity you weaken resistance as you're no longer focusing solely on the finishing line.
When you're in your territory or zone you'll know it because you'll feel satisfied yet also challenged – A territory might be the gym, in your studio, or out on the street surrounded by the people you're helping, it could even be a manuscript; it's the place where the hard work happens day in, day out and provides you with an unlimited resource to expand and continue your soul work.
At some stage in your journey to achieving your dream, you will have to face the restrictive social hierarchies that oppose change and stifle passion, creativity, and success, especially when you're stepping outside of the 'norm'. Remain true to yourself and your work during this time so that you're pleasing yourself first rather than working to please others.
What are good quotes from The War of Art?
"If you find yourself asking yourself (and your friends), "Am I really a writer? Am I really an artist?" chances are you are. The counterfeit innovator is wildly self-confident. The real one is scared to death."
"Are you paralyzed with fear? That's a good sign. Fear is good. Like self-doubt, fear is an indicator. Fear tells us what we have to do. Remember one rule of thumb: the more scared we are of a work or calling, the more sure we can be that we have to do it."
"Our job in this life is not to shape ourselves into some ideal we imagine we ought to be, but to find out who we already are and become it."
"We must do our work for its own sake, not for fortune or attention or applause."
"The most important thing about art is to work. Nothing else matters except sitting down every day and trying."
"The Principle of Priority states (a) you must know the difference between what is urgent and what is important, and (b) you must do what's important first."
"This is the other secret that real artists know and wannabe writers don't. When we sit down each day and do our work, power concentrates around us. The Muse takes note of our dedication. She approves. We have earned favor in her sight. When we sit down and work, we become like a magnetized rod that attracts iron filings. Ideas come. Insights accrete."
"The artist committing himself to his calling has volunteered for hell, whether he knows it or not. He will be dining for the duration on a diet of isolation, rejection, self-doubt, despair, ridicule, contempt, and humiliation."
"Are you a born writer? Were you put on earth to be a painter, a scientist, an apostle of peace? In the end the question can only be answered by action.
Do it or don't do it.
It may help to think of it this way. If you were meant to cure cancer or write a symphony or crack cold fusion and you don't do it, you not only hurt yourself, even destroy yourself,. You hurt your children. You hurt me. You hurt the planet.
You shame the angels who watch over you and you spite the Almighty, who created you and only you with your unique gifts, for the sole purpose of nudging the human race one millimeter farther along its path back to God.
Creative work is not a selfish act or a bid for attention on the part of the actor. It's a gift to the world and every being in it. Don't cheat us of your contribution. Give us what you've got."
"We fear discovering that we are more than we think we are. More than our parents/children/teachers think we are. We fear that we actually possess the talent that our still, small voice tells us. That we actually have the guts, the perseverance, the capacity. We fear that we truly can steer our ship, plant our flag, reach our Promised Land. We fear this because, if it's true, then we become estranged from all we know. We pass through a membrane. We become monsters and monstrous."
"Fear is good. Like self-doubt, fear is an indicator. Fear tells us what we have to do.
Remember our rule of thumb: The more scared we are of a work or calling, the more sure we can be that we have to do it.
Resistance is experienced as fear; the degree of fear equates to the strength of Resistance. Therefore the more fear we feel about a specific enterprise, the more certain we can be that that enterprise is important to us and to the growth of our soul. That's why we feel so much Resistance. If it meant nothing to us, there'd be no Resistance."
"Fear doesn't go away. The warrior and the artist live by the same code of necessity, which dictates that the battle must be fought anew every day."
― Steve Pressfield - The War of Art: Break Through the Blocks and Win Your Inner Creative Battles
* The summary points above have been sourced and summarized from the book, Amazon, and other online publishers. The editor of this summary review made every effort to maintain the accuracy and completeness of any information, including the quotes, chapters, insights, lessons, and key takeaways.
Chief Editor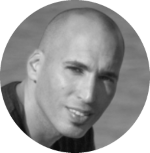 Tal Gur is an impact-driven entrepreneur, author, and investor. After trading his daily grind for a life of his own daring design, he spent a decade pursuing 100 major life goals around the globe. His journey and most recent book, The Art of Fully Living - 1 Man, 10 Years, 100 Life Goals Around the World, has led him to found Elevate Society and other impact-driven ventures.