Losing triple-digit Weight to Become a Competitive Athlete
When are you most aware of your life as a journey? When you grab the wheel and steer, its clear;
Tara's mission, A Life Changing Journey, is about moving forward by letting go, shedding the weight of self-defeating choices, both physically and mentally.
Her triple-digit weight loss is impressive in itself, but Tara's total transformation into a competitive runner, blogger, and coach is empowering others, at any stage in their journey.
Ready or not, Tara's story and her personality will inspire you to make a change.
1. Can you walk us through the first steps of your amazing journey?
The "seed" to starting the journey actually happened long before the first physical step. I stumbled across another blog at the end of the summer in 2009 about a man who used to weigh 344 pounds and lost over 100 pounds in 6 months. He repeatedly said "If I can do it, anyone can do it" throughout his writings. It took another 5 months to convince myself that maybe he was right.
The following December (29th) I made a life changing decision that I shared with some of my co-workers: I declared that I wasn't going to take the elevator to our 3rd floor office any longer. I was going to walk the stairs. That night, I did just that; I took the stairs down three flights. Going up was of course a different story but I kept at it. In the beginning of my journey I didn't focus too much on physical movement. I just made small changes like parking farther away from places I need to go. My real journey began with looking at my food and how emotionally driven I was with decisions about what went into my mouth. I didn't throw up my hands and proclaim "I will never eat fast food again" or "that sugar is the root of all evil therefore I shall never eat another piece of cake". I just looked at the ingredients/calories of everything. I educated myself on the idea of "what does one serving" look like and what exactly is in the two cheeseburgers, supersize fry and gigantic diet coke I was about to choke down. Again it was nothing but small changes here and there. Going from mass consumption of diet soda to replacing one soda a day with a glass of water until I was drinking more water than soda and finally no soda at all took almost 6 months. Going from daily trips through fast food restaurants to eating packaged meals with at least a little healthier options to venturing into my own kitchen and experimenting with cleaner eating took even longer.
2. When did you decide to share your story online, and how did going public change your mission?
Blogging about my weight loss started exactly one month after I made the decision to take the stairs. In the beginning it was mostly about about food and exercise. I'd started the couch to 5k running program in early February and it was a good way to keep track of everything.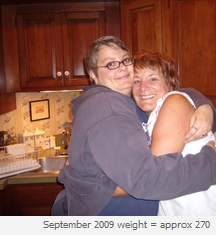 Putting my starting weight out into the "blogging" world was my way of declaring I didn't want to be 270 pounds any longer. I wanted something else. I didn't know what that something else was at the time but my blog was a way of exploring both the physical aspect of weight loss as well as the less talked about emotional aspect of weight loss. It didn't take long to find other people on their own weight loss journeys. Some of those bloggers were in my own neighborhood. Some were thousands of miles away. We all shared a common goal: wanting to take control of our lives.
3. As you know better than most, the choices that add up to life changes are easier said than done. What are some ways that you move from saying to doing?
I think the difficult part about "doing" is most people are "big picture" focused. When I weighed 270 pounds, the idea of having to lose over 100 pounds just to get out from under the obese/overweight label was way too intimidating. How in the world can you expect me to lose over 100 pounds when I am out of breath going up one flight of stairs? I became small pictured focused. I wasn't attempting to lose 110 pounds once. Instead I attempted to lose 5 pounds at a time for 22 times. 5 pounds I could do. Sometimes it took much longer than I was hoping for but every time I did it, I was gaining knowledge that I could in fact lose 5 pounds pretty easily. Instead of one big goal of 110 pounds lost, I checked off 22 goals of 5 pounds lost. The same with running. I was never big picture focused on running. I knew I wanted to attach a bib number to myself and cross a finish line but that was so far down the road. Small picture focused meant could I run for 30 seconds one day and then 60 seconds the next week? Could I run a little faster and still breath? Can I get up a hill without stopping?
4. When did you start to identify as a runner, and how did this change you, your life?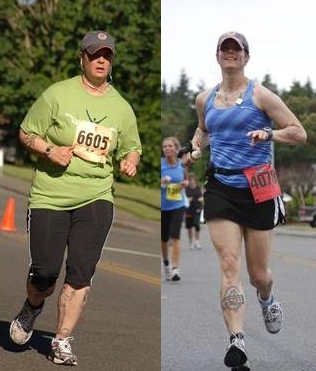 I think anyone who considers themselves a runner will tell you its when you get the "nod" from another runner on the street. I used to get up before the sun came out and run because I didn't want to be laughed at. It didn't take long for me to realize the only person who was laughing and pointing was me. A few times in the beginning, when I started running after the sun came up, I always looked away or down when passed by another runner because I was so embarrassed. The first time someone acknowledged me with the "nod" I stopped and watched them for a moment. Almost like a "was that for me" moment. They didn't know me. They didn't know that I was probably crying moments before because I was so frustrated with myself. They didn't know that I was trying to break free from my morbid obesity. And I didn't know them. All we knew about each other was in that split second moment and what we knew is that we were runners.
Running has literally changed my life. It was the one thing I could do physically that showed me the most improvement on my journey both in movement and in emotional changes. Running allowed me to cry and work through some of my most difficult issues. It allowed me to triumph over accomplishments I thought were impossible. It allowed me to set the bar way higher than I ever imagined and get there one step at a time. By the time I ran my first 5k, I was already thinking about doing a 10k. By the time the 10k came, I had set my sights on attempting my first half marathon. Running gave me the courage to attempt my first sprint triathlon and beyond. There is an ebb and flow with my relationship with running and what I find is it's like a friend and always there when I need it (and sometimes when I think I don't need it)
5. On your blog, you post clever little flow charts depicting the cycles of thinking that so many of us get stuck in -- for example, saying "I can't" is a self-fulfilling prophecy. What are some of your strategies for breaking these cycles?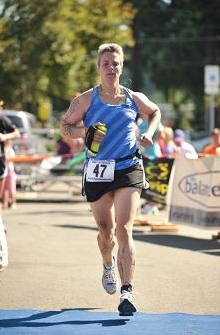 I call it the hamster wheel syndrome. They get on that wheel and go around and around and around. It's all they do. Our thought processes are much the same. We get on the wheel of "I can't", "I'll never", "I don't deserve" and just go around and around and around. I work really hard to get off that hamster wheel and take a long look at why I keep trying to get back on it. Then I refocus FROM big picture (I can't lose 100 pounds, I can't run a 5k, I don't deserve to put myself first) TO small picture (I may not lose 100 pounds but I've lost 20 so far and I know how to lose 5 pounds, I may never run a 5k but I ran for three minutes straight this week and that's at least a 600% improvement over three weeks ago, I may not be able to put myself first in all things but today I will by spending time in my kitchen making lunches for the week). Acknowledging the feelings of "I can't" or any negative emotions is very important. When I bring them to the forefront and give them the needed space to just be, I find the emotions want to work through much quicker. It's when I fight to keep them hidden or swept under a rug that they gnaw at me and do more damage.
6. In your self-work and in your coaching, you focus on dealing with emotional weight. How do you use your own experience to help people identify and work through the underlying causes of their behavior?
I used to think people didn't understand what it was like to be morbidly obese. What it was like to cry over the food in my work space or to sit in the car for an hour working through the urge to binge eat. I didn't think the person next to me on the treadmill understood what it was like to run at 250 pounds on a slow speed and be out of breath within the first few minutes. I didn't think anyone would understand what it was like to drive down a major street in my city and feel the pull to secretly go to the closest fast food drive-thru and eat my way through every numbered meal they offered. I didn't think anyone would understand what it was like to weigh myself obsessively, or sit in front of a new department store I'd never been able to shop in with a pocket full of money but not enough courage to walk in. I didn't think anyone could possibly understand how my fat was shielding me from both the world surrounding me and from myself.
When I started sharing my life on an intimate level, one that most people wouldn't even attempt, I learned really fast that not only did someone out there feel the same things I felt, but they were encouraged to make they're own changes. I met people who had started before me and showed me that there was success in weight loss even when there was so much emotional baggage literally weighing me down. Now I think about all those people just starting out on their own journeys and how maybe my story will help write their story.
7. What kind of support did you have on your journey, and how did it shape who you've become as a coach and the services you provide?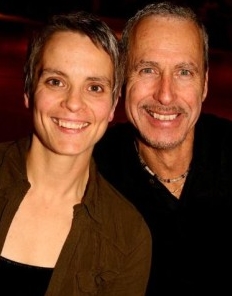 My support mainly came from my personal trainer who truly believed I could long before I believed I could. He let me work through all of my emotions and was always there to say "see Kid, you survived". My blogging friends (who later became my in person friends) were a tremendous amount of support. For the first year of my weight loss journey, my then husband was as much support as he could be and I'm extremely grateful for him. My entire life changed as a result of weight loss. If you had told me in the beginning that not only would I lose 110 pounds, I would run a handful of marathons, finish a half Ironman, end my marriage and find love in the most unexpected place, I would have laughed in your face. I had the support to explore life changes, not just weight loss changes. I know that weight loss isn't just going to change your body. It could change your heart, your direction and everything else in between. My experiences may not be your experiences but they are changes and probably life changing. I understand that more than most people.
8. How did people find you, your blog? How has your website developed over the course of your journey?
People find my blog usually through word of mouth. Someone knows someone that wants to know something about something and sometimes that includes reading my story. I use the necessary social media outlets (FB/Twitter) to get the blog posts out there but for the most part I remain fairly "back stage". I don't have a huge following today but it's a lot more than the 2 readers I had in the beginning. The only changes with the website is the original name (from 263andcounting to ALifeChangingJourney) and a little bit more of a professional look to it. I don't do a lot of promoting and very little product sponsorship. My journey is about living life and finding strength to stand up and take control and much like someone showed me before with their words: "If I can do it, so can you".
9. How did you package your coaching services to be most profitable for you and your clients?
I offer many different payment options/packages to anyone interested in coaching. Because of my wide array of experiences with substantial weight loss, nothing really is off limits when it comes to talking about someone's journey. I understand the long traveled "Before", the hard fought "During" and the ever confusing "After". My coaching isn't geared towards only people wanting to lose weight, but also towards those that are losing weight or have lost the weight and now dealing with unexpected turns. To be honest the profit doesn't come in the form of money. That's why I have a full time job outside of coaching. The profit comes from people starting their own journey and realizing that they can when for so long they felt like they couldn't. I offer packages based on the need of the individual based on time (every week, every two weeks, once a month or punch pass) with different lengths (30 or 60 minutes) and never in a "you have to follow my rules" method. I already believe people have the tools necessary for starting a life changing journey. I'm just here to help them put those tools to good use.
10. What do you see ahead of you now?
Isn't that the million dollar question? I'm always trying to push the physical bar. My bucket list includes Ultra Marathons and full Ironmans as well as competing in Crossfit and lifting heavy stuff. My emotional bucket list includes writing that long awaited book and learning how to make my own laundry soap and sauerkraut.
Thank You for the inspiration Tara
----
Tara Martin is a competitive athlete, blogger, and coach. She has lost 110 pounds and gained a completely new outlook on life. You can read more about her story on her blog at www.alifechangingjourney.com or on Twitter @tidbits_of_tara
Chief Editor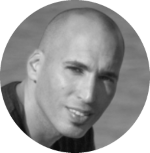 Tal Gur is an author, founder, and impact-driven entrepreneur at heart. After trading his daily grind for a life of his own daring design, he spent a decade pursuing 100 major life goals around the globe. His journey and most recent book, The Art of Fully Living, has led him to found Elevate Society.