The 4 Disciplines of Execution: Summary Review & Takeaways
This is a summary review of The 4 Disciplines of Execution containing key details about the book.
What is The 4 Disciplines of Execution About?
The 4 Disciplines of Execution is a repeatable formula for executing your most important priorities. By following the 4 Disciplines—Focus on the Wildly Important; Act on Lead Measures; Keep a Compelling Scoreboard; Create a Cadence of Accountability—leaders can produce breakthrough results, even when executing the strategy requires a significant change in behavior from their teams.
Who is the Author of The 4 Disciplines of Execution?
Chris McChesney is the Global Practice Leader of Execution for Franklin Covey and one of the primary developers of the 4 Disciplines of Execution. He has led FranklinCovey's design and development of these principles, as well as the consulting organization that has become the fastest-growing area of the company.
Jim Huling is the author of Choose Your Life, his book on work-life integration and success that has sold consistently since 2007. Jim has also been the 4DX Global Managing Consultant for FranklinCovey for more than 13 years where he has led the coaching of more than 70,000 leaders around the world.
Sean Covey is an American business executive, author, speaker, and innovator. He is President of FranklinCovey Education and is devoted to transforming education throughout the world through a principle-centered leadership approach. Sean also serves as Executive Vice President of Global Partnerships where he oversees FranklinCovey's international operations in over 100 countries around the globe.
Book details
Print length: 296 Pages
Audiobook: 8 hrs and 27 mins
Genre: Business, Leadership, Nonfiction
What are key takeaways from The 4 Disciplines of Execution?
Takeaway #1: Achieving lasting change requires alteration of behavior
Change allows growth. Growth removes opportunity for competition to pounce. Hindering this is not straight-forward. Although infinite possible growth strategies exist, only stroke-of-the-pen actions and human behaviour alteration result in their execution. Stroke-of-the-pen actions appeal to executives as they require signing a piece of paper, and then handing the rest over to others. This is often a hasty remedy.
Achieving lasting change requires alteration of people's behavior. Changing yourself is hard enough – consider your most recent New Year's resolution. Now imagine changing others...
What if others don't understand the goal? What if they don't believe their actions impact the goal? What if they don't care?
You may be thinking that it wouldn't take much to solve these. You could explain the company's initiatives, describe their individual responsibilities, and only hire those that care. But this is another quick fix. There is a deeper issue at play. The authors call these dilemmas and decisions the whirlwind. These are the daily duties that swallow-up your headspace and reduce you to exhaustion. The whirlwind is change's nemesis. You could talk to someone about long-term changes until you're blue in the face, but if they are more concerned with their urgent duties, no change will occur.
You can beat the whirlwind. It involves mastery of the Four Disciplines.
Takeaway #2. Complete Focus on Wildly Important Goals
Achieving something truly excellent requires concentration. Focus on one, at most two, Wildly Important Goals (WIGs). Fight against the whirlwind to achieve these.
A WIG could be reducing outgoings by 15% by year's end. When developing your WIG, it should be specific and impact your team's performance. WIGs should outline clear goals for the whole team. Staying specific is vital.
Why is specificity so important? Take the clear goal of equality stated by Martin Luther King Jr. in his "I have a dream" speech. This significantly contributed to the passing of the 1964 Civil Rights Act, bringing everyone a step closer to the "oasis of freedom and justice" he spoke about. Martin Luther King Jr presented his WIG. The right WIGs bring about change. Do not produce vague, ambiguous goals, as these will not bring the change you seek.
Takeaway #3. Focusing on Lead measures, Not Lag Measures
When focusing on achieving WIGs, have a positive mindset. Measures that help you to win will motivate you. Avoid measures that discourage you when failed. People are often automatically drawn to lag measures. They are termed 'lag' as they focus on the past - you cannot change them. Revenue, profit, and customer satisfaction are examples of lag measures.
These do not help in achieving goals. It's like driving a car looking out of the rear-view mirror. Take saving as an example. Looking at your bank balance at the end of the month, to see that you have not saved anything, feels like failure. You can't do anything about it.
Focusing on lead measures is the key to achieving your WIGs. These reflect actions you can control, as they are in the present. They can still influence your goal. Continuing the saving example, budgeting and not overspending are lead measures. Concentrating on these can help you to anticipate whether your goal will be successful. If it predicts that the goal will fail, you can adapt the lead measures to make sure you succeed.
We know that budgeting + not overspending = saving. But, how do we put this knowledge into action? By following lead measures, you witness how your current actions influence your goal, encouraging you to follow your plans.
Takeaway #4. Keep Score Along The Way
Keeping score of your employees' performance lights the fire of competition. No-one likes to lose, especially not in front of their peers. Psychologists Scott and Cherrington (1974) found that competition increases effort and performance by preparing the body through physiological and psychological activation. Keeping score helps motivate your staff to meet WIGs.
That's the benefit of scoring your staffers' progress on the WIG. The scoreboard should be clear and include all important information: lead and lag measures, and comparisons between where the team is, and where they should be. It should be managed by the employees, as this increases sense of control and thus motivation. The board should be laid out in a way that requires a microsecond of attention to identify who is winning and losing.
Imagine your WIG is to increase the percentage of sales by 40% by year's end. To do this, sales must increase by 10% each month. Include the lead and lag measures on the board, as well as their overall progression towards the WIG. Employees can then keep on track of performance.
Takeaway #5. Embrace a Culture of Accountability
A crucial part of the fourth discipline is ensuring your staff are accountable to each other. This turns up the pressure. No-one wants to answer to their colleagues, too. You do this by holding regular WIG meetings. This ensures continual commitment. These meetings need to include a summary of last week's commitments, a review of the scoreboard, and a plan for the next week. If everyone helps to set and meet weekly commitments that influence the lead measures, there will be guaranteed progress toward the WIG.
Engaged employees will go the extra mile to make sure your company is winning. That is why they choose the commitments themselves - to increase engagement. All you need to do is ensure the commitments they set relate to the wider goal.
For example, how could a supermarket adopt the Four Disciplines method? Imagine if they identified their WIG as "increasing customer satisfaction". They have had many complaints of their shelves not being fully stocked. Their lead measure could therefore be "noticing and stacking empty shelves faster". To do this, they share the wider goal and lead measures with their employees. Their staff do more frequent checks of shelves, and stack empty shelves more efficiently. This improves the store's customer satisfaction.
This makes the four disciplines sound deceptively simple. It takes more work than it appears. It requires true determination to accurately follow these within your company.
Takeaway #6. Introducing the Four Disciplines
Putting effort into introducing the 4DX in your workplace pays off. The first discipline, identifying a WIG, requires four, easy steps:
First, gather numerous ideas. Converse with people to gain all of the available information.
Next, identify each idea's impact on the WIG and rank them from most to least effective.
Third, test ideas to ensure they are directly correlated to the WIG.
Developing a single, coherent definition of your WIG is the last step. Start with a verb, then bring in a lag measure, a deliverable, and then a deadline. "Increase energy efficiency from 50% to 70% by March 1st" is an example.
To identify your lead measures, follow these same steps. To ensure lead measures directly relate to and have an impact on your goal, they must be continually evaluated and tested.
Takeaway #7. Bring Out the Scoreboard
The third and fourth disciplines are not as straight-forward as the first two. You must form a plan.
So, the third discipline. Your role in the scoreboard is two-fold: initial setup of the board, and reminding your team of the essential information. You have to pick a theme. This could be a speedometer, a bar chart, it could imitate a sports scoreboard. Now, involve the team. Allow them to finish the design, and keep the score. Ensure they only include the WIG, lead and lag measures.
Creating a culture of accountability is the fourth discipline, and what ultimately determines execution. Here, you must set the example. Once the weekly meetings are decided, you must attend without fail. Showing your commitment increases their commitment. Initiate the meeting by giving detail of whether you have met your commitments. This then provides them with confidence to do the same. Another vital point: congratulate the successes. It will provide them with a sense of pride, and increases that winning feeling.
Only discuss the WIGs, ignore the whirlwind. Anyone who has let the whirlwind get in the way of meeting their WIG commitments must be held accountable. Encourage them so that they know their work is appreciated, but remind them that if they do not uphold their WIG commitments, the team suffers. Allow them the opportunity to catch up.
Takeaway #8. Immerse your team leaders in your WIGs
You want to state your main WIG, so that everyone understands exactly what they're working towards. Then, bring in the team leaders. Get them to develop a WIG and related lead measures. You then step in to ensure it relates to the main WIG, and if it doesn't, get them to choose a new goal. Them choosing is key. Remember, engagement = execution.
Educate team leaders on the 4DX. They must understand it to execute it within their team. Team leaders set up the process within their department. Get them to request feedback and approval for the WIGs and lead measures. Again, this increases engagement. Teams get to work on the method. Give team leaders coaching on the process for a few months. Hold quarterly meetings with team leaders. Is the company progressing towards the WIG? Ta dah! The process is in place, and your vision and goals are well on their way.
What are the chapters in The 4 Disciplines of Execution?
What to Expect
Focus on the Wildly Important
Act on the Lead Measures
Keep a Compelling Scoreboard
Create a Cadence of Accountability
Automating
Installing 4DX in Your Organization
Focusing the Organization on the Wildly Important
Rolling Out 4DX Across the Organization
4DX Frequently Asked Questions
Bringing It Home
So Now What?
What are some of the main summary points from the book?
Here are some key summary points from the book:
Focus on the Wildly Important Goal (WIG): The book emphasizes the importance of identifying and prioritizing one or two "Wildly Important Goals" that have the greatest impact on an organization's success.
Act on Lead Measures: Instead of solely focusing on lagging indicators or results, the book advocates for identifying and tracking specific lead measures that drive progress toward achieving the WIG.
Keep a Compelling Scoreboard: Creating a visual scoreboard that displays real-time progress toward the WIG and lead measures helps keep everyone engaged and motivated.
Create a Cadence of Accountability: Establishing a regular rhythm of accountability meetings ensures that progress is reviewed, actions are taken, and adjustments are made to stay on track.
Focus on Execution: The book emphasizes that execution is the key to success, and it encourages leaders to create a culture where execution is the highest priority.
Establish Clear Roles and Responsibilities: Clearly defining individual roles and responsibilities helps ensure that everyone understands their contribution and can work effectively towards the WIG.
Engage in WIG Sessions: Regular WIG sessions involve teams reviewing and strategizing around their progress, discussing challenges, and identifying solutions to overcome obstacles.
Practice Disciplined Engagement: The book emphasizes the importance of staying engaged and committed to the execution process even when faced with distractions or competing priorities.
Useful Tools and Practices: The book provides several tools and practices to support the implementation of the four disciplines, such as the WIG scoreboard, lead and lag measures, and the X-Model for problem-solving.
Continuous Learning and Adaptation: The authors emphasize the need for a learning mindset, encouraging teams to experiment, learn from failures, and adapt their strategies accordingly.
What are good quotes from The 4 Disciplines of Execution?
"you ignore the urgent, it can kill you today. It's also true, however, that if you ignore the important, it can kill you tomorrow."
"Basically, the more you try to do, the less you actually accomplish.
"You have to decide what your highest priorities are and have the courage—pleasantly, smilingly, unapologetically—to say no to other things. And the way you do that is by having a bigger 'yes' burning inside."
"People who try to push many goals at once usually wind up doing a mediocre job on all of them. You can ignore the principle of focus, but it won't ignore you."
"To achieve a goal you've never achieved before, you must do things you've never done before."
"Human beings are genetically hardwired to do one thing at a time with excellence"
"If you're not keeping score, you're just practicing." (Meaning)
― Chris McChesney, The 4 Disciplines of Execution Quotes
What do critics say?
Here's what one of the prominent reviewers had to say about the book: "The Four Disciplines of Execution is the book every leader should read" — Clayton Christensen, Professor, Harvard Business School, and author of The Innovator's Dilemma
* The summary points above have been concluded from the book and other public sources. The editor of this summary review made every effort to maintain information accuracy, including any published quotes, chapters, or takeaways
Chief Editor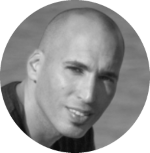 Tal Gur is an author, founder, and impact-driven entrepreneur at heart. After trading his daily grind for a life of his own daring design, he spent a decade pursuing 100 major life goals around the globe. His journey and most recent book, The Art of Fully Living, has led him to found Elevate Society.