The bottomless pit of idealization
We all have a point in our life where we idealize something - money, power, freedom, beauty, prestige, a person... Here's, however, something important to remember:
Idealize money, and you'll never have enough of it.
Idealize power, and you'll always be in need of control.
Idealize freedom, and you'll find yourself constantly running away.
Idealize beauty, and deep inside, you'll never feel beautiful.
Idealize intellect and you'll be afraid of being perceived as "stupid"
Idealize positivity, and you'll always judge, always label, always avoid what's not "positive".
Idealize the past or future, and you'll never truly live the present.
Idealize someone, and you'll never truly know the person.
Idealize, and you will ALWAYS be disappointed.
Because when you idealize, you make something greater than it really is.
And when this something reveals itself to be less than what you imagined, all you'll ever find is disappointment.
So, the next time you find yourself idealizing, glorifying, romanticizing, glamorizing...—remember, it's a bottomless pit.
Instead, go after what you want in life from a place of abundance and plenty. You are whole, complete and enough, just the way you are.
-
Previous share: Stop. Note to Self
***
* To gain more inspiration and motivation for your personal growth journey, I recommend visiting my SMART goals page, which offers a wide range of goal ideas to help you establish new aspirations and achieve greater success in life. This list was crucial in the development of my own life goals list, consisting of 100 goals that I pursued for ten years.
Chief Editor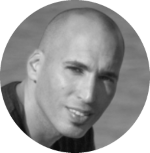 Tal Gur is an author, founder, and impact-driven entrepreneur at heart. After trading his daily grind for a life of his own daring design, he spent a decade pursuing 100 major life goals around the globe. His journey and most recent book, The Art of Fully Living, has led him to found Elevate Society.