The Geography of Genius: Summary Review
This is a summary review of The Geography of Genius containing key details about the book.
What is The Geography of Genius About?
The Geography of Genius is a book that explores the correlation between geographical location and the development of human genius, focusing on various historic periods and civilizations.
A "superb travel guide: funny, knowledgeable, and self-deprecating" (The Washington Post), he explores the history of places like Vienna of 1900, Renaissance Florence, ancient Athens, Song Dynasty Hangzhou, and Silicon Valley to show how certain urban settings are conducive to ingenuity. With his trademark insightful humor, this "big-hearted humanist" (The Wall Street Journal) walks the same paths as the geniuses who flourished in these settings to see if the spirit of what inspired figures like Socrates, Michelangelo, and Leonardo remains. In these places, Weiner asks, "What was in the air, and can we bottle it?"
Summary Points & Takeaways from The Geography of Genius
Some key summary points and takeaways from the book includes:
* Genius is not an innate quality, but is instead influenced by environmental factors such as location, culture, and historical events.
* The concept of "genius clusters," or geographic areas with a high concentration of creative and innovative individuals, can be traced back to ancient Greece.
* Cities like Athens, Florence, and Vienna were all once considered genius clusters and have been the birthplace of some of history's greatest thinkers and artists.
* The growth and prosperity of a city can be attributed to the creativity and innovation of its residents.
* Genius can be nurtured and encouraged through the creation of supportive environments and a strong educational system.
* The author argues that in order for a city to become a hub for creative and innovative individuals, it must have a culture that values and encourages learning, experimentation, and risk-taking.
Who is the author of The Geography of Genius?
Eric Weiner is a popular speaker and author of the New York Times bestseller The Geography of Bliss, Man Seeks God, The Geography of Genius and The Socrates Express. Weiner's books have been translated into more than 20 languages.
Book Details
Print length: 368 pages
Genre: Nonfiction, History, Travel
The Geography of Genius Chapters
Chapter 1 :Genius is simple: Athens
Chapter 2:Genius is nothing new : Hangzhou
Chapter 3:Genius is expensive : Florence
Chapter 4:Genius is practical : Edinburgh
Chapter 5:Genius is chaotic : Calcutta
Chapter 6:Genius is unintentional : Vienna pitch-perfect
Chapter 7:Genius is contagious : Vienna on the couch
Chapter 8:Genius is weak : Silicon Valley
What is a good quote from The Geography of Genius?
Top Quote: "The story of the world is not the story of coups and revolutions. It is the story of lost keys and burnt coffee and a sleeping child in your arms. History is the untallied sum of a million everyday moments." - The Geography of Genius Quotes, Eric Weiner
What do critics say?
Here's what one of the prominent reviewers had to say about the book: "A witty, entertaining romp. Weiner's vivid descriptions of modern-day life in each locale make the spots feel like must-visit destinations." — The New York Times Book Review
* The editor of this summary review made every effort to maintain information accuracy, including any published quotes, chapters, or takeaways. If you're interested in furthering your personal development, I invite you to check out my list of favorite personal development books page. On this page, you'll find a curated list of books that have personally impacted my life, each with a summary and key lessons.
Chief Editor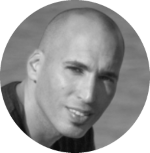 Tal Gur is an author, founder, and impact-driven entrepreneur at heart. After trading his daily grind for a life of his own daring design, he spent a decade pursuing 100 major life goals around the globe. His journey and most recent book, The Art of Fully Living, has led him to found Elevate Society.