The Idea-Driven Organization: Summary Review
This is a summary review of The Idea-Driven Organization containing key details about the book.
What is The Idea-Driven Organization About?
The Idea-Driven Organization is a book about unlocking innovation and creativity in organizations by fostering a culture that encourages and nurtures ideas from all levels of the company.
There's constant pressure today to do more with less. But cutting wages and benefits and pushing people to work harder with fewer resources can go only so far. Ironically, the best solution resides with the very people who have been bearing the brunt of these measures. With Robinson and Schroeder's advice, you can unleash a constant stream of great ideas that will strengthen every facet of your organization.
Summary Points & Takeaways from The Idea-Driven Organization
Some key summary points and takeaways from the book includes:
* Ideas drive success: Organizations must focus on capturing and leveraging innovative ideas from employees at all levels.
* The power of networks: Encouraging collaboration and networking is critical to spreading ideas and innovation.
* Building a culture of innovation: Companies need to establish a culture where new ideas are encouraged, celebrated, and implemented.
* The role of leadership: Leaders must be the champion of innovation and set the tone for the organization.
* Leveraging technology: Embracing technology can help organizations streamline idea management and increase collaboration.
* Measuring success: Organizations need to track and measure the impact of their idea-driven initiatives.
* The importance of experimentation: Encouraging employees to test and iterate on their ideas is key to driving innovation.
* Overcoming resistance: Addressing resistance to change is a critical step in making the transition to an idea-driven organization.
Who is the author of The Idea-Driven Organization?
Dean M. Schroeder is an award winning author, consultant and scholar. His work focuses on creating high-performing organizations and improving people's work lives through the application of better management.
Alan G. Robinson is an award-winning author, educator, researcher and consultant. His specialties include lean production, managing continuous improvement, creativity, ideas and innovation.
Book Details
Print length: 240 pages
Genre: Business, Leadership, Nonfiction
The Idea-Driven Organization Chapters
Chapter 1 :The Power in Front-Line Ideas
Chapter 2:A Different Kind of Leadership
Chapter 3:Aligning the Organization to be Idea Driven: Strategy, Structure, and Goals
Chapter 4:Aligning the Organization to be Idea Driven: Management Systems
Chapter 5:How Effective Idea Processes Work
Chapter 6:Implementing A High-Performing Idea System
Chapter 7:Ways to Get More and Better Ideas
Chapter 8:Front-Line Ideas and Innovation
What is a good quote from The Idea-Driven Organization?
Top Quote: "Very few managers know how to effectively tap the biggest source of performance improvement available to them: namely, the creativity and knowledge of the people who work for them." - The Idea-Driven Organization Quotes, Alan G. Robinson and Dean M. Schroeder
What do critics say?
Here's what one of the prominent reviewers had to say about the book: "As leaders, we need to create an environment that effectively draws employee ideas out and empowers implementation. The Idea-Driven Organization provides a practical map on how to get there." — Jeff Nagel, CEO, NBTY Inc.
* The editor of this summary review made every effort to maintain information accuracy, including any published quotes, chapters, or takeaways. If you're interested in furthering your personal development, I invite you to check out my list of favorite personal development books page. On this page, you'll find a curated list of books that have personally impacted my life, each with a summary and key lessons.
Chief Editor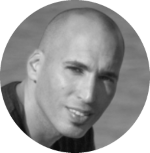 Tal Gur is an author, founder, and impact-driven entrepreneur at heart. After trading his daily grind for a life of his own daring design, he spent a decade pursuing 100 major life goals around the globe. His journey and most recent book, The Art of Fully Living, has led him to found Elevate Society.