The Power of No: Summary Review & Takeaways
This is a summary review of The Power of No containing key details about the book.
What is The Power of No About?
The Power of No is a self-help and motivational book. It's one thing to say no, the authors explain. It's another thing to have the power of No. When you do, you will have a stronger sense of what is good for you and the people around you, and you will have a deeper understanding of who you are. And, ultimately, you'll be freed to say a truly powerful "Yes" in your life—one that opens the door to opportunities, abundance, and love.
Who are the authors of The Power of No?
Claudia Azula is a bestselling author, writer, podcast host, speaker, and yoga teacher.
James Altucher is an American hedge-fund manager, author, podcaster and entrepreneur who has founded or co-founded over 20 companies.
Book details
Print length: 240 Pages
Genre: Self Help, Nonfiction, Personal Development
What are key takeaways from The Power of No?
Takeaway #1: Say No to Bad Relationships. It Leads to Health and Love
Every day we make choices, good or bad. With each choice, you should make choices that benefit your well-being. This means avoiding bad habits like smoking and poor nutrition. With these decisions, you will choose health and life. You can also choose life by ridding yourself of negative people who drain your energy. Make a list of all the people that you come in contact with and make a note of how they make you feel on a scale from 1 to 10. Spend more time with the people that rank highest. Treat those who rank lower on the list with a long handle spoon. This might be hard at first, but you can overcome destructive behavior by saying no. The author noticed a pattern in her life of dating unavailable men. After learning to say no to these types of men, she was able to find true love.
Takeaway #2: Say no to other people's expectations. It empowers you to follow your dreams
It is time to stop doing things you don't want to do. Using your assertive no can keep you from disliking a person or making them feel bad for making you do things you don't want to do. Think about it: when people help you and you know they don't want to, you feel guilty. You don't have to conform to anyone's idea of you. Choose your own storyline by following your own passions. Find yourself by visiting a bookstore and seeing what books most interest you. You'll become more interesting to others when you find your real passion because enthusiasm is attractive.
Takeaway #3: Say No to Scarcity and Noise. It leads to abundance and silence.
Today, people seem to want more of everything from food to gossip. Saying no to scarcity makes room for you to focus on abundance. Focusing on abundance and the blessings in your life will enrich you. You should always say no to noise and anything that disturbs your peace like negative thoughts, fear or regret. This will lead to a more peaceful state of mind and the ability to listen with an open heart. Practice listening to someone with your full attention. Giving attention to a lonely person is a rewarding experience.
Takeaway #4: Learning to Say No Lets You Say Yes
The word "no" has lots of power. In summary, it comes from discernment (perceiving the abundant life), compassion (listening with an open heart) and health (saying no to harmful things). Being thankful is another way to keep you committed to saying "no". Start each day by thinking about things that you are grateful for. This will help you keep focusing on good things. Saying no involves every part of the body, including physical, emotional, spiritual, and mental. Using the power to say no, you'll be better able to say yes to yourself.
What are good quotes from The Power of No?
"Always say to yourself, I'd rather be healthy than right. Because the infection of someone so wounded will spread to you if you engage."
"If coming up with ten ideas sounds too hard, then come up with twenty."
"When you say yes to something you don't want to do... you hurt yourself."
"When the groundwork is done, when we ask for help, when we surround ourselves with those who will respect our time to speak up and hear what we need to share, we are let in on a huge and powerful secret: we reach God much more easily through other people's ears."
"There is nobody you need to impress. There is nobody who is judging you. And there will be nobody who can stop you."
"Someone who is reinventing always has spare time. Part of reinvention is collecting little bits and pieces of time and carving them the way you want them to be. That is the Power of No in action: you say no to the superfluous distractions because you must find some time for you."
"Filtering the people we allow into our lives is probably the most important factor in determining whether we will live a happy life or not."
"we beat ourselves up in ways in which we would never beat up someone we loved."
"Whenever you sense someone is about to start manipulating you, you need to go into ABC mode:... Acknowledge, Boundary, Close.
― James Altucher, The Power of No: Because One Little Word Can Bring Health, Abundance, and Happiness
What do critics say?
Here's what one of the prominent reviewers had to say about the book: "I would recommend this book to any member of the human species. It's bold, empowering, and useful. It gave me the courage to turn down distractions so that I could focus on the important things in life, like endorsing this book." — A. J. Jacobs, New York Times best-selling author of Drop Dead Healthy
* The summary points above have been concluded from the book and other public sources. The editor of this summary review made every effort to maintain information accuracy, including any published quotes, chapters, or takeaways
Chief Editor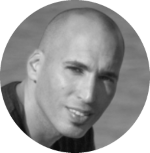 Tal Gur is an author, founder, and impact-driven entrepreneur at heart. After trading his daily grind for a life of his own daring design, he spent a decade pursuing 100 major life goals around the globe. His journey and most recent book, The Art of Fully Living, has led him to found Elevate Society.