The Startup Playbook: Summary Review
This is a summary review of The Startup Playbook containing key details about the book.
What is The Startup Playbook About?
The Startup Playbook shares the hard-hitting experiences of some of the world's most influential entrepreneurs and CEOs, revealing their most closely held advice. Face-to-face interviews with 40 founders give readers key insights into what it took to build PayPal, LinkedIn, AOL, TED, Flickr, and many others into household names. Special sections include topics ranging from how to select the right idea to pursue to finding funding and overcoming inevitable obstacles.
Who is the author of The Startup Playbook?
David S. Kidder is a founder, investor, speaker, and author. His purpose in life and work is to ignite growth in people and organizations' lives, empower people to discover who they are becoming, and, ultimately, solve our time's grand challenges.
How long is The Startup Playbook?
What genre is The Startup Playbook?
Business, Entrepreneurship, Nonfiction
What are good quotes from The Startup Playbook?
"Focus on People, Perseverance, and Passion These "Three P's" are the keys to successful entrepreneurship. People are the most important, particularly in the first year of a venture. To maximize their value, spend as much time as you can assembling the best possible team that really complements your skill set and can lead a little bit into where you're heading, not just where you are. Creating the right kind of dynamic in terms of culture and commitment is really critical. Perseverance: never underestimate the value of really caring about your idea and being unwilling to drop it. If you have a big idea, and you know in your heart it's going to happen (Passion), but know there will be roadblocks and challenges along the way. In this regard, a high degree of passion and commitment is extremely important. In my experience, really big ideas often take a decade to reach fruition."
"Don't Suffer from the Sin of Comparison. Follow Your Own Path."
"Find Something Nobody Else Can Do Selection is critical. When you launch a venture, you have to be comfortable with the idea that this is what you're going to do for the rest of your professional life. It has to be awesome; it has to be ten times better than anything in the marketplace. Also, it can't just be better because nobody else is doing it currently. It has to be something that nobody other than you can do, especially once you're up to scale. Show"
"The risk of our current business climate is that we've created a generation of entrepreneurs with a form of attention-deficit disorder."
"If we're not doing something that's game-changing, then frankly I'm not interested in doing it."
"Find a Match Between Your Talents and Your Customers' Needs"
"Your entire organization must focus on an area of strength where you can defeat your competitors and radically differentiate your company by being ten times better than anyone else in the world. This is the bar you set for your team; you must own and be known for this value."
"The idea that everybody can be an entrepreneur and create a startup is simply false. Building a startup is a ton of work. It's brutal. If you want to do it, sign up for a brutal experience and sign up to be brutal. You need the ability to see the future and manage your way through a crisis."
"Money Is a Magnifying Glass Money makes you more of who you already are. If you are a jerk, it will make you a bigger jerk; if you're insecure, you become even more insecure; if you are generous, you become even more generous; if you are nice, you become even nicer. Making money is like holding up a magnifying glass to who you are, personally and professionally. It creates a lot of energy and power, and it's up to you to use that in a really good way."
"A master in the art of living draws no sharp distinction between his work and his play; his labor and his leisure; his mind and his body; his education and his recreation. He hardly knows which is which. He simply pursues his vision of excellence through whatever he is doing, and leaves others to determine whether he is working or playing. To himself, he always appears to be doing both.—L.P. Jacks, Education through Recreation"
"When we spoke, Steve explained the larger context. "If"
"Don't Be Afraid to Fail When I was growing up, my dad would encourage my brother and me to fail. We would be sitting at the dinner table and he would ask, "So what did you guys fail at this week?" If we didn't have something to contribute, he would be disappointed. When I did fail at something, he'd high-five me. What I didn't realize at the time was that he was completely reframing my definition of failure at a young age. To me, failure means not trying; failure isn't the outcome. If I have to look at myself in the mirror and say, "I didn't try that because I was scared," that is a failure."
― David S. Kidder, The Startup Playbook
What are the chapters in The Startup Playbook?
Chapter 1: Chris Anderson
Chapter 2: Charles Best
Chapter 3: Sara Blakely
Chapter 4: Steve Blank
Chapter 5: Matt Blumberg
Chapter 6: Rodney Brooks
Chapter 7: Jeff Bussgang
Chapter 8: Steve Case
Chapter 9: Marc Cenedella
Chapter 10: Robin Chase
Chapter 11: Chip Conley
Chapter 12: Jeff Dachis
Chapter 13: Michael & Ellen Diamant
Chapter 14: Chris Dixon
Chapter 15: Marc Ecko
Chapter 16: Kevin Efrusy
Chapter 17: Caterina Fake
Chapter 18: Mitch Free
Chapter 19: Lisa Gansky
Chapter 20: Tom Gardner
Chapter 21: Eileen Gittins
Chapter 22: Seth Goldman
Chapter 23: Joe Green
Chapter 24: Scott Harrison
Chapter 25: Scott Heiferman
Chapter 26: Reid Hoffman
Chapter 27: Jeffrey Hollender
Chapter 28: Ben Horowitz
Chapter 29: Tony Hsieh
Chapter 30: Cyrus Massoumi
Chapter 31: Jim Mccann
Chapter 32: Stephen & Heidi Messer
Chapter 33: Elon Musk
Chapter 34: Jacqueline Novogratz
Chapter 35: Hosain Rahman
Chapter 36: Adeo Ressi
Chapter 37: Linda Rottenberg
Chapter 38: Kevin Ryan
Chapter 39: Kirill Sheynkman
Chapter 40: Jeff Stewart
Chapter 41: Jay Walker
Chapter 42: The Best Advice
Chief Editor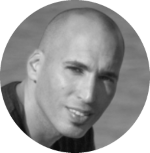 Tal Gur is an impact-driven entrepreneur, author, and investor. After trading his daily grind for a life of his own daring design, he spent a decade pursuing 100 major life goals around the globe. His journey and most recent book, The Art of Fully Living - 1 Man, 10 Years, 100 Life Goals Around the World, has led him to found Elevate Society and other impact-driven ventures.