Nikki Wynn: Letting Go of the American Dream
Nikki and Jason Wynn have been traveling around the US with two cats…in an RV, no less. They worked hard for a living for ten years and saved up their money for a grand journey around the country. When the time was right, they left their successful businesses, sold all their belongings and began their trip in their RV, Windy.
Nikki and Jason have festival-hopped, explored the outdoors while hiking and biking, and taken such risks as hang gliding. Their inspiring adventure has already taken them along both coasts as they travel into mountain ranges, swim the oceans, and explore the deserts.
Learn how they do it!
1."Adventurous" doesn't even begin to describe who you are. You sold everything you had, bought an RV, loaded the cats and never turned back to what was everyday life in Dallas. What inspired you to go on this journey?
The American Dream is seared into our memory from the time we're babies. We lived that dream to some extent: marriage, house in the suburbs, fancy car, expensive dinners, and so on. This was a fine life, and one many people would be happy with, however for us it was missing something. We sold everything and set out to discover America, and in turn hopefully discover what we truly want from life….. a journey in the most pure form.
2.As you journey around the country, how do you decide where to go next?
Word of mouth is the strongest form of communication and the most reliable form of recommendation. It can be difficult to cut through the marketing & advertising budgets of certain destinations, however take the time to ask people to share their personal experience and you'll find there's many destinations worth visiting. When speaking with another person (face to face or even in email) you can begin to understand what it is about their favorite town or city, and with their passion you can judge how great the town may be.
3.You mantra is, "Search, discover and explore all that life has to offer." What do you mean by that?
When living in Dallas we traveled often. Before departing on our current trip we realized that flying into a city you lose the experience of discovery. When you travel by car or RV you're forced to travel smaller distances which allow the opportunity to search out unique places along the way, places you would have never seen by any other form of travel. So we search out these new destinations, we discover what they have to offer, we explore the area and hopefully enhance our life journey in a positive way.
4.You are in search of adventure. What constitutes an adventure?
This is a question that has changed for us over the past 1½ years. Originally we thought adventure was something like white water rafting or snowboarding. Come to find out adventure can be a number of things: from something as simple as hiking through the forest to flying like a bird over the water, open your mind and life offers adventures of all kinds.
5.What are the advantages and disadvantages to traveling in an RV with cats?
Companionship is the greatest benefit to travelling with your pets. The simple day to day life is enhanced ten-fold with our cats (Singa and Cleo), the unconditional love they offer makes us smile every day. One of our favorite things to do is find a hidden trail through the forest, park the RV, and go for a nice long walk with the cats.
The downside to travelling with cats is we can be held back a little. Life on the road with pets means we can't simply park the RV and take a 2 day hike through the backwoods. We must consider our cat's needs, and if we are to attend a festival or do some extended trail hikes we must find alternate lodging for them.
6.You named your RV Windy. Where did that name come from?
Believe it or not our RV is the first RV to go through wind tunnel testing. So considering her sleek aerodynamic design Windy seems the perfect name for our new home on the road.
7.On your website, you say that you travel in the most eco-friendly manner as possible. What are the three most impactful things you do to decrease your carbon footprint?
While living on the road there are many opportunities to leave a lighter footprint on mother nature. Here's our favorite 3:
Food: Have you heard the expression "vote with your fork"? Shop local, support small farmers, purchase organic and/or biodynamic, eat at local restaurants, and cook for your health. What you choose to eat can leave such an impact on the environment. During our travels we seek out local farmers markets, we rarely eat at a chain restaurant, we drink local microbrews, we consume mostly vegetables, and so on. It doesn't hurt that Nikki is a master of the tiny kitchen whipping up homemade bread and healthy, tasty meals from scratch.
Off the Cord: Living off the cord means using little resources. Our solar panels charge our batteries, which power the appliances and LED lights inside our RV. We can live up to 1 week on 50 gallons of water and without the need for grid based electricity; this is a fraction of what the average person uses in just one day. Best of all this type of living is typically found in remote locations surrounded by beauty, and it's completely free to use.
Live Small: I realize this may sound ludacris but living in an RV can be eco-friendly. During our 1 year of travelling across the west we drove less than 15,000 miles (how many miles did you put on your car last year?). Our living space in the RV is less than 250 sq. ft. This means we need less power to heat, cool, clean and live in our space. Because an RV is mobile we spend most warmer months in the north, and cooler months in the south which allows us to rarely turn on the heater or a/c.
8.What's the most memorable location you've traveled to so far on your journey and you can't wait to go back?
A small town called Trinidad, CA just on the southern rim of the Redwood National Forest. The town is a picture perfect setting overlooking a cliff lined harbor, with small homes and a few local eateries. A few miles south lies Humbolt, a hip college town directly on the water. Immediately north of Trinidad is Patrick's Point state park. The towering redwoods, moist climate, and the ocean cliffs combine to create scenery worthy of fairy tales…simply spectacular.
9.What's the most exciting thing you've done that you never thought you'd ever do in your lifetime?
Well, aside from selling everything and moving into an RV, I guess underwater pumpkin carving in the middle of the desert would be pretty high on the list.
10.You've traveled along the west coast in 2011, the east coast in early 2012 and have plans to tackle the interior states for the remainder of 2012. Do you have intentions of traveling into Canada or Mexico? Why or why not?
Currently we're in southeast Canada for the month of June! Culture and diversity is important in life, and while Canada may be our neighbors their worlds apart. With loads of British and French influence, and buildings hundreds of years old mixed with contemporary high rise towers, the city landscapes are quite unique.
As for Mexico we have dipped down a few times by foot but taking the RV across the border can be risky. We have spent many months discovering Mexico by plane and car in the past, however we feel our RV is a little too "flashy" for a south of the border trip.
11.You maintain a very active blog to chronicle your travels. What inspired you to share your adventures with the world?
When we were planning our travels in 2010 one of our friends told us: "You can't go on this trip and not document it". That statement sparked an idea to share our story. It's hard for us to think what we're doing is interesting to others, but over the years we've realized people enjoy day dreaming of their great adventure while watching our videos. A byproduct to keeping our website is now we have memories forever documented. When we finally end our journey we can sit down and share our experience with future generations; without the photographs, text, and videos we may have forgotten some of the best times of our lives.
12.Do you both come up with your blog ideas and write collaboratively or do you take turns?
Over the past year it's been mostly Nikki writing the articles on our website, and me shooting and editing video. We do work together to conceptualize a project, however from there we both have our jobs. Recently we've realized delivering weekly videos is challenging, so now we're including a more day-to-day experience on our website. For these posts we're calling it "the Daily" and it includes perspectives from each of us.
13.You have been the topic of many articles written in newspapers and online sites such as The New York Times, RV Daily Report, The Wall Street Journal, and many others. When and how did your story get so big?
Unfortunately we're not good at marketing ourselves. In 2010 we didn't really know what a blog was and we rarely used social media….now in 2012 it's our life. Fortunately we've met some interesting people over the years who think our life choices are unique enough to write a story about us. If we had a little marketing or PR expertise I know our story would be able to reach more people. The biggest goal is not for us to become famous, it's to reach other people who are thinking of taking that big step; maybe our website can give them that push to follow their dreams and dive in head first.
14.What, if anything, do you miss about living in a house and staying put in one place?
It can be a challenge to keep up with friends and family while living on the road. Last year we were able to visit family for both Thanksgiving and Christmas, and we had a few friends and family come to the RV for a visit so it wasn't so bad. Some people do teleconference but for us it's not the same. It is nice when friends and family watch our videos, or read our articles, then leave us a comment. It seems like a small thing, but it helps us feel connected.
15.Will you be going back to your previously successful business once you've finished your adventure? What does the future hold for you?
TBD! Our original idea was 2 years discovering North America then settle down. It turns out once you have the travel bug it's difficult to go back to the "normal" world. We'll likely follow a few opportunities back in the west, then who knows……there's talk of future exploration of the world by sailboat……you'll just have to follow our journey to see where life leads us.
Thank You
-------
The Wynns share their adventures with people around the world through their website, Gone With The Wynns at gonewiththewynns.com. Their light style of writing and sense of humor bring their journey to life. Without a doubt, they are seizing the moment and having the time of their lives. You can also find them on Twitter at @the_wynns
Chief Editor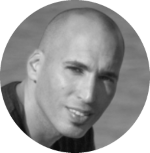 Tal Gur is an author, founder, and impact-driven entrepreneur at heart. After trading his daily grind for a life of his own daring design, he spent a decade pursuing 100 major life goals around the globe. His journey and most recent book, The Art of Fully Living, has led him to found Elevate Society.