Tim Ferris: The Human Guinea Pig
A recent commercial by an electronic brand says doers are a rare species. Though the line initially comes across as an appreciable attempt at a dramatic production, on closer examination you realize that the statement is true. This is not because few have the potential to achieve greatness, but because few have the will and determination to work consistently.
A cursory glance at the profile of science writer Timothy Ferris is, to say the least, unbelievable. More than 250 prints, audio and visual records narrate the story of a man with an unquenchable thirst for knowledge, and a passion that serves as the propeller for his success. To be titled the best science writer alive is no mean feat, especially in an era when critics and readers are increasingly aware of scientific content creators working across the world.
You must also take note of the fact that it is imperative that you make a career out of what you enjoy doing, as the trials life throws at you will otherwise find you pliable. Timothy Ferris' life showcases this fact, with the man capitalizing on his interests and awing his critics and audiences with work brimming with vitality.
Born on 29 August 1944, Ferris' personal life is little known, with his professional track record doing all the talking, giving one a partial view of the personality of the man. However, the beginning of Ferris' uninterrupted victories has been traced back to his childhood, when as a 12-year-old, he acquired his first telescope and trained it on Mars. Such was his fixation with space that at the tender age of 15, Ferris founded Key Biscayne Astronomical Association and edited its journals. As a 16-year-old, Ferris took a photograph of Echo 1 satellite, which was published in various newspapers all across the world. Thus began this author's timeline of professional activity.
Ferris' life shows us that a person commands respect if he is exceptional in his work. Gifted and hard working, Ferris was encouraged to proceed with his work, and few denied him an opportunity by ridiculing his age. He graduated from Northwestern University in 1966 and attended Northwestern University Law School for a year, before jumping headfirst into journalism.
Even as a beginner, he contributed content to different premier media houses including the New York Post and United Press International. It was his stint with Rolling Stones magazine, wherein he worked as New York City bureau chief and editor, that kick-started his star-studded career. He bagged the American Institute of Physics Prize for his book The Red Limit at the age of 33.
Around the same time that he received his first accolade, Ferris produced that which he is best known for, and if his work served its purpose, will truly be etched in history of the universe forever – he produced the Voyager Golden Record, a phonograph record. The phonograph is essentially a compilation of sounds and audio-visual inputs that talk about the history of Earth, as we know it, and humans and their diverse cultures. This artifact is a part of the two Voyager spaceships that are currently travelling in space, constantly emitting signals. These signals are meant to be intercepted by any extra-terrestrial beings, and those who do intercept the signals will be enlightened about the status of human life on Earth, as recorded. However, Voyager is about 40,000 years away from reaching the closest solar system.
Ferris crossed his 100-article mark by the time he turned 40, and he has to his credit twelve books, four films and hundreds of articles on astronomy, physics, mathematics and other sciences. His works have been published by The New Yorker, Times Newsweek, Forbes, Harper's, Scientific American, Vanity Fair, The Nation, The New Republic and The New York Review of Books, besides editing a more impressive list of science periodicals and books. He has addressed numerous seminars, with his discourses being centered on a wide range of topics, from journalism to studying astronomy. The Science of Liberty, The Whole Shebang and Coming of Age in the Milky Way are his most popular works, and his The Creation of the Universe video takes home praises and awards recognizing Ferris as an exemplary science writer.
The Christian Science Monitor has called him the most popular science writer in the English language, and the Washington Post has recognized him as the best science writer of his generation. Such titles are not thrown away at every Tom, Dick and Harry. To pacify tough nut critics who are known for their high standards is something that a precious few achieve, and those who do are invariably those with a vast amount of expertise in their chosen fields.
Taking the time to introspect and locate your innate abilities pays handsomely – it brings in job satisfaction and a healthy, wholesome life. The position of the King of a trade is awarded to one who is able to exploit his strengths to the fullest and keep his weaknesses from interfering with his performance. If Ferris had not recognized his vocational calling for observing the universe and recording his observations in a manner that laymen understand what he is talking about, we would have lost out on an exceptionally good science writer who has his hand on the pulse of the people, satisfying their queries with well composed productions in print and digital media.
When your mentor tells you that there is no substitute to hard work, believe him. A timeline of Timothy Ferris' work, when listed out in font size 8, would run into almost 10 pages. Had he eased on the pedal after reaching any certain set mark, he would have been in the list of yester-year writers. And had he told himself that teenage was for killing time with parties and aimlessness, and work must wait for adulthood, he probably would not have nourished his mind properly. Procrastination is the Achilles' heel of success. Postpone satisfying your thirst for knowledge or achieving a deadline set for achieving something, and you might as well wave good-bye to self-actualization.
Photo Credit: Wikimedia Commons
Chief Editor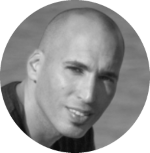 Tal Gur is an author, founder, and impact-driven entrepreneur at heart. After trading his daily grind for a life of his own daring design, he spent a decade pursuing 100 major life goals around the globe. His journey and most recent book, The Art of Fully Living, has led him to found Elevate Society.