Volunteering while traveling in Peru served as great way to get a deeper connection with the country and its people, so when I saw a similar opportunity of volunteering in the US, I grabbed it with both hands.
The option institute which is also an international Autism treatment center is nestled in the middle of nature, and one of the reasons why I chose to spend full 2 months there and remove myself from the general tourist route.

ELEVATE
Free Resource: A step-by-step blueprint to help you set and realize big dreams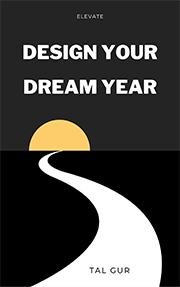 The Berkshires region, a 2.5 hours scenic drive from New York City, is breathtakingly picturesque and extremely peaceful. The institute's 100 acre property is situated within wooded rolling hills which are filled with hiking trails, lakes and wildlife. Our volunteers cottage was surrounded by thick green forest and my room offered views of nature from every angle. I could even hear the sounds of flowing streams before sleep.
In this environment it is not surprising that the mind starts to clear and the body becomes energized. Waking up for an early morning run has never been easier for me. It was even spiritual in a way. I recognized beauty everywhere I ran and felt in tune with the world around me. This type of surrounding also fostered clarity and deeper seeing, especially working side by side with a group of like-minded people from different backgrounds.
Beside the satisfaction of giving to others (and the satisfaction of free accommodation) we all had group classes where we shared and uncovered our beliefs. The option institute and the Autism center base their philosophy on the thesis that every behavior is a result of an adopted belief, therefore it is changeable with a simple process.
The Option Dialogue process
I'm not sure of the exact history and background but the Option Dialogue process really reminds me of the famous Greek philosopher, Socrates, who posed deep challenging questions and then used the answers to shed light on the reasons of people's decisions.
The dialogue process we practiced at the institute was basically a system of belief analysis which involves a series of questions that give us an opportunity to crystallize what we know or more importantly what we want.
When you think about it, nowadays, most people avoid questions. They are commonly interpreted as signs of doubt or as acquisitions. Most of us are afraid to confront our beliefs and open the "black box". Just another belief we adopted along the way. We say a lot "I don't know", but in fact for most of us fear the answer and adopt a belief that it's unknowable.

ELEVATE
Free Resource: 1000+ SMART goal ideas to inspire you create your life goals list.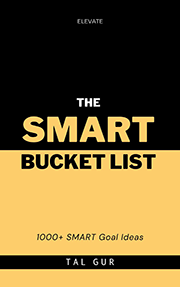 The institute, on the contrary, considers questions as a gift and an opportunity to help us to reveal beliefs which can untimely be altered. The questions we posed were never directive and did not lead to a described path. They were freely given and always triggered from the last answer. This is because it is believed that each of us is our own expert and that we know more than anyone about ourselves. The primary assumption is that each one of us does the best he can and based on his beliefs and the intension is always to take care of himself. Even when we're angry, for example, we do it because we have an underlined belief that it serves us in some level.
One of the reasons I personally liked this process is because there is no right or wrong, good or bad answers within the dialogue framework. We simply try to better understand ourselves in a nonjudgmental way and then use this understanding to further learn.
What did I learn?
So many things really but primarily in the realm of happiness and unhappiness.
We all want to be happy obviously. In fact, It is the reason for all our wanting and aspirations. However, we find ourselves too often unsatisfied or unhappy. We're used to blame things outside or ourselves, an event or a person. We put something between ourselves and happiness. We put a condition. If that happens I will be happy. If I earn such and such amount, I will be happy. If I get into a relationship, I will be happy. We don't really accept responsibility for our happiness, where in reality we decide it ourselves.
In those 2 months of volunteering, while exploring my belief system, I could clearly see this mechanism. I could see the conditions I created and how sometimes I elected to choose unhappiness as a motivator to move myself forward. In many cases, quite successfully.
The real question, however, is why not just being happy now and then if I want something, I can work towards it while being already happy? It seems more effective. More energy can be actualized to get what I want instead of energy spent on shutting down and form fear.
It's only when we take full responsibility on our feelings, that we can maximize our happiness. That doesn't mean we will not experience dissatisfaction at all. I can already see scenarios where unhappiness can serve us quite well, but we can defiantly ask questions. Does it get me what I want? Or does it give me less than what I want? And if I still decide to choose unhappiness, what's the point of keeping it long?
Questions. A gift indeed.
Live your dreams.

ELEVATE
Free Resource: A step-by-step process for a better relationship with social media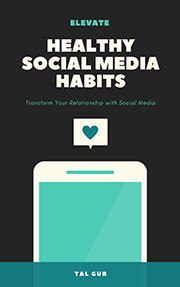 Chief Editor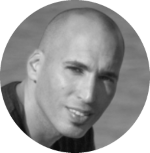 Tal Gur is an author, founder, and impact-driven entrepreneur at heart. After trading his daily grind for a life of his own daring design, he spent a decade pursuing 100 major life goals around the globe. His journey and most recent book, The Art of Fully Living, has led him to found Elevate Society.