Why Unrealistic goals are easier than realistic ones?
"...having an usually  large goal is an andrenaline infusion that provides the endurance to overcome the inevitable trial that goes with any goal..." (Thimothy Ferriss)
my life experiences supports the above.
When I tried to train for a mini triathlon I found myself literally dragging my feet to the gym with no energy. I missed training sessions, especially early ones.
Same happened when I tried to save relatively small amount of money, I simply didn't have the discipline.
My life experiences have taught me that setting unrealistic & unimaginable goals, which are worth striving for, makes the process easier, fun and very much realistic.
Some examples include Motorcycle trips to unmapped territories, becoming an Australian citizen and participating in Ironman/marathon events.
Founder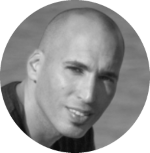 Tal Gur is a location independent entrepreneur, author, and impact investor. After trading his daily grind for a life of his own daring design, he spent a decade pursuing 100 major life goals around the globe. His most recent book and bestseller, The Art of Fully Living - 1 Man, 10 Years, 100 Life Goals Around the World, has set the stage for his new mission: elevating society to its abundance potential.