"Are you going to travel forever?"
This question has been repeatedly asked over the last year by other travelers who have heard that my business allows me to continue traveling indefinitely. I've been on the road for the last 10 months now, and I'm obviously living not only my dream, but also one many others have.
Traveling is in my blood, you could say. Life has actually been non-stop traveling for me ever since I can remember; my dad used to work on a ship, so I would spend at least 3-4 months overseas every year during my schooling.
I feel like there is another side, though – a side that I got to see more clearly in the last few months. For me, traveling can also be a form of escapism (and provided it is not overdone, there is little harm in that); once it's indulged a little further, one starts withdrawing from an active role in life.
I remember, a long time ago, after my military service and whilst lying on the beach of this perfect Thai island, saying to myself: "This is the life. I should build a house and stay here for the rest of my life." 4 weeks later, I went back home and registered at a university. Yes, I was quite young and naïve back then, but the point is still valid and at any stage of life: one needs to find meaning in what one does.
Meaning Vs. Pleasure
In 2009, I derived an immense amount of pleasure out of my RTW trip, especially from experiencing freedom in its most absolute form. Quitting the 9-to-5 routine to become completely in charge of my life has been a very meaningful event for me.
Although it's quite tempting for me to continue on this route – choose an exotic beach that has a satellite internet connection, keep developing internet businesses, and "retire" from the affairs of this world –, I've decided to take a different path this year.
I now know that my aim is to find an optimal balance.
Adding more meaning
I've spent quite a lot of time in the last month thinking of what my primary focus in 2010 would be. In recent years, I've established a tradition of choosing one primary focus for the upcoming year. It has been quite an effective tool, as I was able to immerse myself in one main area, extracting more wisdom out of it.
While thinking, I have realized that if I had the choice (and I do), I would like to help more. It's also become clear to me that one my biggest enjoyments and excitements in life is turning dreams into reality – sometimes, even more than the dream itself.
I decided to combine both this year in my objective to be of assistance to those who seek help, and at the same time, to develop intellectually and professionally in the area of personal coaching.
Law of attraction
It's funny how the universe conspires in helping you to achieve what you want when you put an intention out there. The right opportunities and the right people seem to appear almost immediately.
Last week, I was offered a 2-month volunteering position in a U.S. institute that specializes in coaching, starting in early May. I already had travel plans for Central America, but I felt immediate clarity, especially after my latest reflection process, and a few hours later, I had a plane ticket to New York.
The very same week, another opportunity presented itself when a fellow traveler asked me to mentor him for one year in business. Before this month, I would probably have postponed it, but I said yes, and it looks like we are going to learn quite a lot from each other.
Another project that I've always wanted to take on, but kept on delaying for some reason was in the area of web design. I've always wanted to use my professional skills to help others. It now feels like the right time, so yesterday, I purchased a domain name and the project is officially underway.
In between, and while I'm in South America, I plan to volunteer in either Bolivia or Peru. I've got a few volunteering recommendations, but I guess I'll choose when I get there.
So seems I'll be on the road for at least another half a year and probably a bit more, but I'm starting to feel ready to get back to Australia. Once I get back, I'll probably continue my commitment to help others while developing in the area of coaching.
Well, I guess that's how 2010 is going to look for me, but first there is Carnival in Rio in a couple of weeks to celebrate!
***
*To obtain more inspiration and motivation to achieve your goals, you definitely want to check out my extensive list of growth goals. This page contains SMART goal ideas that can help you establish new aspirations and attain greater heights in your personal growth journey. I utilized this page myself to create my own list of 100 life goals, which I dedicated a decade to pursuing.
Chief Editor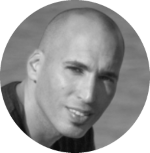 Tal Gur is an author, founder, and impact-driven entrepreneur at heart. After trading his daily grind for a life of his own daring design, he spent a decade pursuing 100 major life goals around the globe. His journey and most recent book, The Art of Fully Living, has led him to found Elevate Society.