It's that time of year again — time to reflect on the past year, turn a new page, and set new intentions for 2020.
If you've been following my journey thus far, you'll know that every year, around the holiday season, I pick one primary focus for the upcoming 12 months. This simple yearly ritual allowed me to immerse myself in a chosen area and, as a result of that intentness, extract more wisdom and growth.
But before I go into my next year's focus, let me first begin with a quick review of the past year. 
2019: The Year of Conscious Creation
In many ways, 2019 was a year of true elevation. My main focus last year was conscious creation which meant creating from alignment and in a way that supports all creation.
In my experience, when we're impatient and jumping into action from a place of misalignment, lack, fear or incompleteness, then what is manifested is something that matches that scarcity. Contrarily, when alignment is prioritized, we stop focusing upon things that only serves our survival interests.
In this context, one of the key principles I adopted was Abundance First. The way I see it, abundance is first and foremost consciousness, an inside job. It's about moving from lack consciousness (i.e. fear) into an abundant one. It's about creating from a place of completeness, of inspiration, of calling and purpose. 
With this in mind, here are some of my key creations in 2019: 
***
1. Making Bali My Home - After many years of foreplay, I finally took the plunge and made Bali my home. I truly don't have enough words to express my gratitude for this magical island. There are none that can encompass the beauty of all of the special beings and incredible experiences it gave me.
Life in Bali reminded me, once again, that the environment we choose for ourselves makes a big impact — Who we are and what we do in one environment is very different from who we are and what we do in another. 
The past year in Bali allowed me to experience life from a more calm and more peaceful place. It allowed me the space to elevate and develop a deeper connection with myself and others. And it gave me the quiet time to align with who I want to be moving forward. (more on that later).
***
2. Minimizing my 'Digital Nomad' Life - In the early days of 2019, I made a decision to reduce my traveling so that I could invest more time in one place. It sounds like an easy decision to make, but it wasn't. I got used to the luxury of traveling to wherever I want, whenever I want.
This went hand in hand with making Bali my home. It was good for the environment, good for my soul, and good for the conscious creation and entrepreneurship I was called to adopt in the beginning of the year.
That being said, I still traveled to a number of places. I flew to Israel to visit my family, I traveled to Budapest to speak in the event of a dear friend of mine, and I spent a good chunk of time in Thailand, mostly in the peaceful island of Koh Phan Gan, swimming, dancing, and enjoying long walks on the beach.
***
Incorporating Dancing Into My Life - One of my absolute highlights of 2019 was immersing myself in the world of Contact Improv Dancing. In this world, it's not about whether you're moving correctly or in step with someone else. You don't have to measure up, there's no right or wrong, no mistakes, and nothing has to match.
Improv dancing is really about being fully in the present and allowing your body to move without judgment. It's about tuning in and connecting with your own emotions. It's spontaneous, and unpredictable, and the meditative effects one feels from spending quality time in the body is very powerful.
In my early adult years, dancing was never my forte - I was stiff and swaying my body freely wasn't something I felt natural. I spent most of my twenties living in my mind, largely ignoring my body that just wanted to move, to dance, to connect… Then, at some point in my late thirties, I finally woke up and decided to fully embrace the body and and its natural ways of feeling joy. Dancing was a big part of that shift. 
When living in a place like Ubud, you can't really miss the improv dancing spell. From ecstatic dance to 5-Rhythms and Contact Improvisation, it's all around you. Since photos often speak louder than words, here are a few photos of my dancing year.

***
Founding Elevate Society - If there's one thing I've learned over the years, it is this: true fulfillment arises from contributing to the fulfillment and welfare of others, in which our own fulfillment and welfare reside. Throughout my 100 goals journey around the world, I've come to realize that "I," "me," and "my" provide a limited perspective at best. The underlying interconnectedness and non-separation of life are not merely metaphors but living truth. 
That sobering realization is a big part of what led me to Kiva. If you have not heard of Kiva before, it's a non-profit organization providing microloans to entrepreneurs in developing countries. Among other things, Kiva allows you to create teams, so that a group can work together towards a mutual goal.
The team I founded is called ELEVATE Society and its mission is to support more than 25,000 local entrepreneurs by 2025. In 2019, together as a group, we supported more than 500 causes and contributed more than $15,000 worldwide (Check our progress here). It's my heartfelt belief that by helping the world, we're not only helping ourselves, but also contributing to something greater than ourselves, and that's what brings true fulfillment. (if you feel called to, feel free to join us here)
***
Launching ELEVATE Year (Officially) - I've been coaching and mentoring for more than a decade but this year I officially launched my yearly mentorship program and gave it a name: ELEVATE Year. 
To date, dozens of people joined the 12-month one-on-one journey and the results are inspiring: dreams have been realized, breakthroughs have been attained, and most importantly, deep personal transformations have been made.
I feel both honoured and humbled by the role the universe has carved out for me. This year, I've upgraded the mentorship program and there are now 52 deep transformational exercises to support participants in their personal elevation. (If you're curious to learn more, check it out here)
***
This brings me to 2020. For this year, I've selected community leaderships as my primary theme. In many ways, this is a continuation of the past year and the focus on conscious creation.
2020: The Year of Community Leadership
A few years back, I sent a short message with the following two simple questions to people I know and whose opinions I value:
What qualities/attributes show up for them when I am in their presence?
What contribution do they see me making in a group, community, or society as a whole?
Almost half of the respondents who answered the 2nd question mentioned the words "leader" or "leadership." This took me by surprise. Somehow, I did not see the leader in me. Just goes to show you how blind one can be.
In the past few years, I filled a few leadership roles such as organizing entrepreneurial events, mentoring in an entrepreneurship programs, and managing a software division for an international company, however it never felt like I connected deeply enough with the leader in me. 
This year, it feels different. I'm feeling called to transition into a more leadership space—not necessarily in terms of a title, but in terms of outlook and actions around a community I'm forming.
I know this shift may require me to take more responsibility and adjust some of the beliefs I hold about myself but it feels like the right time. Previously, I wrote about the importance of holding a flexible belief system about one's identity and how vital it is to recognize that a different identity (i.e. personality) may be required to achieve one's callings. 
I'll probably share more as the year progresses. Wherever you are and whatever your plans are for the New Year, I wish you blessings of joy on your journey.
Much love from Bali
***
* If you're seeking extra motivation and inspiration on your journey of personal growth, I recommend taking a look at my SMART growth goals page, This page offers thousands of goal ideas that can assist in the establishment of new aspirations and the attainment of greater heights in one's life. In fact, it was instrumental in my creation of a list of 100 goals, which I pursued for a decade.
Chief Editor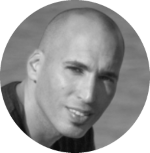 Tal Gur is an author, founder, and impact-driven entrepreneur at heart. After trading his daily grind for a life of his own daring design, he spent a decade pursuing 100 major life goals around the globe. His journey and most recent book, The Art of Fully Living, has led him to found Elevate Society.