At age 29 I had achieved a conventional dream.
I had risen to the position of leading project manager at my software company, and I was reaping the rewards. My salary afforded me a lovely apartment, a new car, and a comfortable lifestyle.
Logically, I should have been happy.
But I was not. I felt half-alive inside.
Waking up, getting ready for work I did not like, driving to work, waiting in traffic, feeling possessed by my pathetic Point A-to-Point B mission, heading back from work, unwinding from work, going to bed.
Rinse and repeat.
I had enslaved myself to the tyranny of traditional success, hoping that my nice salary could buy my happiness.
But true happiness, I've learned, runs much deeper, originating from an inner sense of meaning and purpose.
Society was selling me that I need to have certain things and live in a certain way to be considered successful.
What I needed however was to redefine success.
So at the height of my so-called successful career, I flew to Cyprus, where I am right now, in order to find perspective.
That little Cyprus solo vacation changed everything. My newfound external connection with Cyprus's beauty was morphing into an internal one, a connection with my own nature, and the internal compass was pointing to a new place and a new direction.
Life has a funny way of repeating itself. Once again, I'm re-committing myself to the resolution I made almost a decade ago:
Regardless of cost and the seeming difficulty, I shall go where inspiration takes me.
Inspiration, not the whim of society's definition of success, will be my one and only North Star.
-
Previous share: The Entire World is Our Home
***
* To gain more inspiration and motivation for your personal growth journey, I recommend visiting my SMART goals page, which offers a wide range of goal ideas to help you establish new aspirations and achieve greater success in life. This list was crucial in the development of my own life goals list, consisting of 100 goals that I pursued for ten years.
Chief Editor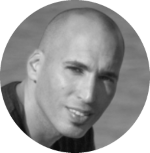 Tal Gur is an author, founder, and impact-driven entrepreneur at heart. After trading his daily grind for a life of his own daring design, he spent a decade pursuing 100 major life goals around the globe. His journey and most recent book, The Art of Fully Living, has led him to found Elevate Society.