You never quite know the impact you have on others.
Around a year ago, I got a very short email from a guy named Tomas Laurinavicius, saying:
"Thank you for an inspiring work you do. I just published my bucket list".
My response:
"Brilliant Tomas. Thanks for letting me know, keep it up!"
Little did I know how serious Tomas was and how impactful his contribution to the world would be.
In a bit over than a year, Tomas blog has become a reference point to tens of thousands of lifestyle entrepreneurs. His work is published regularly on big online media outlets like Forbes and Time, and he was recently approached by a book agent.
Today, my interview with him got published on Huffington Post.
I get inspiration from people like Tomas and many others I've never actually met in person.
It's fulfilling knowing that somewhere out there, someone is positively impacted because of something I shared with the world.
This is why I believe it's important to share our lessons, our victories, as well as our struggles.
We never quite know the impact we have on others.
* Check out Tomas work at Tomas Laurinavicius. This young change-maker is shaping a new generation who will make the world a better place.
-
Previous share: Courage – not fearlessness – is the way.
Founder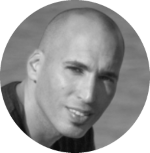 Tal Gur is a location independent entrepreneur, author, and impact investor. After trading his daily grind for a life of his own daring design, he spent a decade pursuing 100 major life goals around the globe. His most recent book and bestseller, The Art of Fully Living - 1 Man, 10 Years, 100 Life Goals Around the World, has set the stage for his new mission: elevating society to its abundance potential.