Less stuff is more freedom.
You and I were programmed.
We were programmed, in some form or fashion, to be consumers in a well-functioning system built for profit.
We were all conditioned from an early age to desire more possessions and never be satisfied with what we have.
We were told that we need to buy new clothes every season, a new car every few years, and the latest gadget each time one is announced.
We were asked to trade our freedom for a 30-year mortgage, so that we can fill our homes to their maximum capacity with stuff we don't really need: Another candle holder, another piece of furniture, another cute little bowl.
We have far more freedom than any people in the history of mankind, yet we choose to trade it for more stuff.
For years, I was craving a life of less consumption, but it only really happened when I left for my first round-the-world trip, almost a decade ago.
I literally purged 95% of my possessions.
I never really realized how much crap I owned until I moved.
Suddenly, my new life was more than the sum total of what I owned; it was rich with freedom and possibilities.
Close to 10 years have passed since that round the world trip and my life is still filled with less stuff.
Today, I don't feel I missed one part of my life. On the contrary.
As a wise man once said: If you would make a man happy, do not add to his possessions but subtract from the sum of his desires.
-
Previous share: You never quite know the impact you have on others
Chief Editor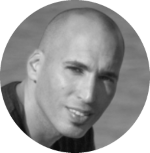 Tal Gur is an impact-driven entrepreneur, author, and investor. After trading his daily grind for a life of his own daring design, he spent a decade pursuing 100 major life goals around the globe. His journey and most recent book, The Art of Fully Living - 1 Man, 10 Years, 100 Life Goals Around the World, has led him to found Elevate Society and other impact-driven ventures.