A Different Kind of Vision statements
VISION statements are not just for the business world. They can be powerful instruments for shaping our life.
Unable to walk after my snakebite recent snake experience, I took the time to peel away layers of extra fluff and look more deeply into my own "souland".
For years, I wrote visions that are mostly future-oriented and outcome-based - They were effective but always left me with a gaping hole.
This time, perhaps due to some transmutation forces, I infused it with the feelings I want to experience.
After all, it's the FEELING we're really after.
On top of that, I reconstructed it in a way that I don't have to wait. I can live that vision right here, right NOW.
Often, beautiful outcomes come our way when we're already vibrating at our highest.
Now, comes the best part. Actually, LIVING it.
Moment by moment.
*
-
Previous share: Learning by doing
Founder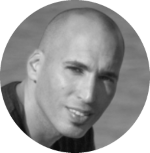 Tal Gur is a location independent entrepreneur, author, and impact investor. After trading his daily grind for a life of his own daring design, he spent a decade pursuing 100 major life goals around the globe. His most recent book and bestseller, The Art of Fully Living - 1 Man, 10 Years, 100 Life Goals Around the World, has set the stage for his new mission: elevating society to its abundance potential.