The only thing we can control
There's only one thing we can control in life.
Yesterday, I gave a talk in one of the many coworking spaces here in Lisbon. One of the questions I was asked at the end of my talk, was what hasn't worked for me.
My answer: A LOT!
In fact, if I were to make a list of all that has not worked, I'd never get to the end.
I love setting goals. I love the process of looking into the future and imagining the next chapter of my journey.
But the truth is, I have no idea what actually is going to happen. I have zero control over the matter.
The only control I really have is choosing my perspective. In every moment, as long as I remain conscious and aware, I can choose to pick the len through which to view the world.
Choosing to see the glass half-full, and I'll experience challenges as opportunities, lessons, chance to grow. Choosing to see the glass half-empty, and I'll experience challenges as pitfalls.
Glass half-full or glass half-empty. That's the only thing we can control in life.
-
Previous share: Less borders. More choice
***
* If you're seeking extra motivation and inspiration on your journey of personal growth, I recommend taking a look at my SMART growth goals page, This page offers thousands of goal ideas that can assist in the establishment of new aspirations and the attainment of greater heights in one's life. In fact, it was instrumental in my creation of a list of 100 goals, which I pursued for a decade.
Chief Editor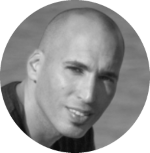 Tal Gur is an author, founder, and impact-driven entrepreneur at heart. After trading his daily grind for a life of his own daring design, he spent a decade pursuing 100 major life goals around the globe. His journey and most recent book, The Art of Fully Living, has led him to found Elevate Society.