Running away from my pain
When I got divorced a few years back, I found the world of Tinder. Each time I got a message, my heart tingled with anticipation.
Tinder is merely a tool, and it can be quite a wonderful tool, but I used it to run a way from my pain.
The pain of simply being with myself.
And I did not do it only with Tinder. I did it with Facebook, with my mobile, with friends, with work. Anything but experiencing a bit of time with myself.
On the surface, life was OK, but beneath there was always this — this sense of restlessness. this sense of yearning.
For too long, I had confused this yearning with doing something outside of myself to feel good on the inside. But the real yearning was far deeper.
So just like a drug addict who is coming off of their addiction, I stripped off all my outer layers of Self.
I became familiar with my pain. I fully exposed it. Day in and day out. Until it didn't have power over me.
I believe we all have this yearning to connect with ourselves but it can't really happen if we keep running away from pain and discomfort.
Transformation can only happen when we meet our edges. When we stop running from pain and instead embrace it as an agent for change.
When that happens, peace happens. And all the tools we use - Tinder, FB, work - stop being distractions, but rather enablers for growth.
-
Previous share: The only thing we can control
***
*To obtain more inspiration and motivation to achieve your goals, you definitely want to check out my extensive list of growth goals. This page contains SMART goal ideas that can help you establish new aspirations and attain greater heights in your personal growth journey. I utilized this page myself to create my own list of 100 life goals, which I dedicated a decade to pursuing.
Chief Editor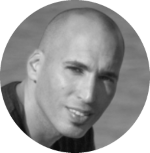 Tal Gur is an author, founder, and impact-driven entrepreneur at heart. After trading his daily grind for a life of his own daring design, he spent a decade pursuing 100 major life goals around the globe. His journey and most recent book, The Art of Fully Living, has led him to found Elevate Society.