I hear my name. It's my turn to go on stage. I take one deep breath and start feeling aligned.
I step forward and enjoy the feelings and sensations that occur within. I wait for nervousness to kick-in but it's not there anymore. The fear nervousness left as quick as they came.
Then, something I didn't really think will happen, happened. I entered a state of flow. My body relaxed into a rhythm. my mind forgot past and future. I was just there, in the moment, 100%.
Twenty or thirty minutes later, I jog off stage, a big grin stretching from ear to ear. The words passed through me and all I needed to do was to show up.
-
Previous share: 500 people
***
* If you're looking for more inspiration to help you on your personal development journey, you may want to check out my extensive list of SMART goals. This page is packed with thousands of different goal ideas that can help you set new aspirations and reach higher heights in your life. Personally, this page helped me to create my own 100 life goals list, which I pursued for over a decade.
Chief Editor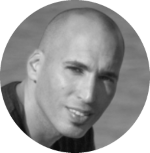 Tal Gur is an author, founder, and impact-driven entrepreneur at heart. After trading his daily grind for a life of his own daring design, he spent a decade pursuing 100 major life goals around the globe. His journey and most recent book, The Art of Fully Living, has led him to found Elevate Society.