Creating space for the unknown
In my early travel days, I used to read about my destinations and fill my schedule with as much as I could.
But as I've grown older, I've learned to create space and leave room for the unknown, or, as I see it these days, to trust life and what it has in store for me.
Yesterday, I spent a day with friends at one of the loveliest beaches I've ever visited. And it only really happened because I left space for it to happen. If I tried to plan it, it could not have been as magical as it was.
There is a lot of comfort in knowing but the trick is to find comfort in not always knowing. When you think about it, it is where all the magic and richness of life is: creativity. opportunities. adventure.
The known is, well... known.
-
Previous share: When a setback happens
Founder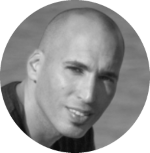 Tal Gur is a location independent entrepreneur, author, and impact investor. After trading his daily grind for a life of his own daring design, he spent a decade pursuing 100 major life goals around the globe. His most recent book and bestseller, The Art of Fully Living - 1 Man, 10 Years, 100 Life Goals Around the World, has set the stage for his new mission: elevating society to its abundance potential.