The most important thing we can do in our lifetime
"The privilege of a lifetime is being who you are"
When I first heard that simple quote by Joseph Campbell, it made so much sense to me. In fact, I'd go and say it's THE most important thing we can do in our lifetime.
But what does it exactly mean to "BE WHO YOU ARE"?
We all have so many different layers and personalities inside of us.
The key, I learned, is to look beyond the layers and personalities, beyond our current job or the work we do.
We usually define ourselves through doing but who we truly are goes beyond that. It radiates from us. Even when we are standing still.
Each of us is giving off a certain energy, a certain glow. No two are exactly the same. We all have a subtle uniqueness about us.
And it is only when we embrace our uniqueness that we can shine in this world as the lights we really are.
Until then, we're simply replicas, copycat versions following the crowd, afraid to differ from one another so that no one can judge and criticize us.
I was one of these copycats throughout my youth. I blended in with everyone and everything, clinging to some "one-size-fits-all" plan.
It has taken me more than a decade of self-discovery and experimentation to truly know myself at my core: a growth agent who is here to empower, inspire, uplift...
It's funny how I was doing and being it throughout my journey without even realizing it. I guess we are all like fish in water, too immersed to perceive the water we swim in.
-
Previous share: Alignment First
Chief Editor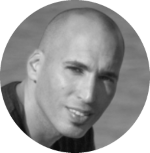 Tal Gur is an impact-driven entrepreneur, author, and investor. After trading his daily grind for a life of his own daring design, he spent a decade pursuing 100 major life goals around the globe. His journey and most recent book, The Art of Fully Living - 1 Man, 10 Years, 100 Life Goals Around the World, has led him to found Elevate Society and other impact-driven ventures.