Bliss is being one with the environment.
One of the surest ways to shift into bliss and contentment is to stop experiencing ourselves as separate from the environment and instead become one with it.
Easier said than done. Luckily, however, my current environment consists a great surfing beach outside my door. And Surfing is one hell of a way to become infused with oneness.
Yesterday afternoon, while resting on my surfboard, patiently waiting for the next wave, my whole experience of the Canary Islands had changed. From resisting my visit to absolutely loving it.
Suddenly, the island was the best place on earth. A fresh ocean breeze mixed with salt water hit my face as the ocean lifted my surfing board. I was immersed in the moment, becoming one with waves. Nothing else mattered.
And that short period when you feel as you become one with everything around you is what I call bliss.
-
Previous share: Sadness can be a gift
Founder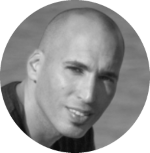 Tal Gur is a location independent entrepreneur, author, and impact investor. After trading his daily grind for a life of his own daring design, he spent a decade pursuing 100 major life goals around the globe. His most recent book and bestseller, The Art of Fully Living - 1 Man, 10 Years, 100 Life Goals Around the World, has set the stage for his new mission: elevating society to its abundance potential.