Being positive about feeling negative
All I wanted yesterday was to get out to nature and explore the island with friends.
Then again life had its own plans. My lower back was so sore from surfing that I could barely move around. At night, I could not fall asleep due to the pain I was in.
Needless to say I felt an array of negative feelings: frustration, irritation, helplessness...
But if there's one thing I've learned in life it's that we can maintain a positive attitude despite the negative feelings that are built inside of us.
Often, we're so quick to run away from our "negative" feelings that we tend to prolong those feelings and create even greater pain down the road.
I've learned that by remaining positive and allowing the negative feelings to pass through I can set them free. Plus, I can try to understand what the feelings are telling me.
And so I did. I stayed at home and worked hard on my upcoming book with as much positive attitude I could muster and it ended to be my one my most productive days this year thus far.
-
Previous share: 1 or 2?
Founder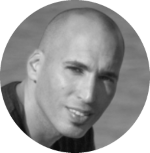 Tal Gur is a location independent entrepreneur, author, and impact investor. After trading his daily grind for a life of his own daring design, he spent a decade pursuing 100 major life goals around the globe. His most recent book and bestseller, The Art of Fully Living - 1 Man, 10 Years, 100 Life Goals Around the World, has set the stage for his new mission: elevating society to its abundance potential.