Not long ago, I celebrated Yom Kippur, the holiest date on the Jewish calendar. Well, not really "celebrated" - I fasted for 24 hours, I refrained from work, I reflected.
In the past, I hated the fact that one cannot drive, use public transportation, or dine out during the holiday. I saw it as religious coercion.
Now, a bit older and hopefully a bit wiser, I not only not hate but actually like the tradition. All cars stop running, the country goes quiet, skies are pollution free, thousands ride their bicycles on deserted highways.
Beautiful.
And all of this only works because everyone allows it to. Because seculars, myself included, choose to demonstrate respect towards other people's beliefs.
How could I shift from hate to love in a matter of a few years?
I stopped being afraid. I let the fear of not having my needs met slip away and instead replaced it with empowerment. I empowered myself to become a world citizen. If I want, I can always fly away and have a different experience in a different country. I don't have to hate the other, the different, the religious "enemy".
Because the only real enemy is inside us. And the best remedy for hate is empowerment.
-
Previous share: Facing Challenges Together
***
*To obtain more inspiration and motivation to achieve your goals, you definitely want to check out my extensive list of growth goals. This page contains SMART goal ideas that can help you establish new aspirations and attain greater heights in your personal growth journey. I utilized this page myself to create my own list of 100 life goals, which I dedicated a decade to pursuing.
Chief Editor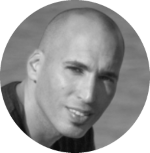 Tal Gur is an author, founder, and impact-driven entrepreneur at heart. After trading his daily grind for a life of his own daring design, he spent a decade pursuing 100 major life goals around the globe. His journey and most recent book, The Art of Fully Living, has led him to found Elevate Society.