When you become one with the ocean… you are the ocean.
There's nothing like the desert to experience a renewal of soul and spirit. I just spent three very nourishing days there. The endless sea of desert is like a giant mirror, reflecting dimensions of ourselves that are often hard to see in a busy world full of distractions.
The desert makes you feel insignificant and small but, at the same time part of something grand. It feels quite special to be a drop a of life in all of that vastness, not just as a separate drop but as part of the entire ocean.
Or as the poet Rumi said, "You are not a drop in the ocean. You are the entire ocean in a drop".
-
Previous share: Sustained Happiness
Founder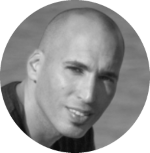 Tal Gur is a location independent entrepreneur, author, and impact investor. After trading his daily grind for a life of his own daring design, he spent a decade pursuing 100 major life goals around the globe. His most recent book and bestseller, The Art of Fully Living - 1 Man, 10 Years, 100 Life Goals Around the World, has set the stage for his new mission: elevating society to its abundance potential.