When you become one with the ocean… you are the ocean.
There's nothing like the desert to experience a renewal of soul and spirit. I just spent three very nourishing days there. The endless sea of desert is like a giant mirror, reflecting dimensions of ourselves that are often hard to see in a busy world full of distractions.
The desert makes you feel insignificant and small but, at the same time part of something grand. It feels quite special to be a drop a of life in all of that vastness, not just as a separate drop but as part of the entire ocean.
Or as the poet Rumi said, "You are not a drop in the ocean. You are the entire ocean in a drop".
-
Previous share: Sustained Happiness
***
*To obtain more inspiration and motivation to achieve your goals, you definitely want to check out my extensive list of growth goals. This page contains SMART goal ideas that can help you establish new aspirations and attain greater heights in your personal growth journey. I utilized this page myself to create my own list of 100 life goals, which I dedicated a decade to pursuing.
Chief Editor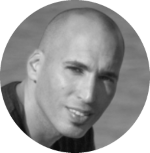 Tal Gur is an author, founder, and impact-driven entrepreneur at heart. After trading his daily grind for a life of his own daring design, he spent a decade pursuing 100 major life goals around the globe. His journey and most recent book, The Art of Fully Living, has led him to found Elevate Society.