Yesterday, I bumped into turtles on 3 different occasions. I haven't seen any turtles in years, then suddenly 3 times in one day... Coincidence or Synchronicity?
At first glance, a series of occurrences in our lives may seem unrelated yet, more often than not, a deeper look can reveal a common theme.
A message if you will...
But what may be the message?
This is what came to me today when I spent time reflecting:
A turtle always carries his home with him. A place to go inside to whenever he wants - for refuge, for protection, for self care and regeneration.
We have this too. We also can go inside whenever we need. We can also carry our homes with us.
A man who constantly searches for a home "out there", in the bricks and mortar, lives in a mind-made story.
A man who feels at home whenever he want, truly lives in a home...
-
Previous share: Want everything. Need nothing
Founder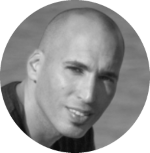 Tal Gur is a location independent entrepreneur, author, and impact investor. After trading his daily grind for a life of his own daring design, he spent a decade pursuing 100 major life goals around the globe. His most recent book and bestseller, The Art of Fully Living - 1 Man, 10 Years, 100 Life Goals Around the World, has set the stage for his new mission: elevating society to its abundance potential.