I was always cynical about Valentine's Day. It's just a marketing ploy, right?
But here's the problem with being cynical: It's a lose-lose situation. Cynicism always renders us passive.
Today I say… Who cares? Valentine's day may be a marketing ploy but it's still a reminder to appreciate the loves in your life.
So last night, rather than being cynical and passive again, I chose being loving. I went to a florist, bought flowers to family members, and drove around the country to deliver them.
The joy in their eyes said it all.
Love is what we all want, what we all need. Just like our body needs oxygen to survive, our soul needs love to thrive.
Because for our soul, love IS life.
-
Previous share: It's about the person you become
***
*To obtain more inspiration and motivation to achieve your goals, you definitely want to check out my extensive list of growth goals. This page contains SMART goal ideas that can help you establish new aspirations and attain greater heights in your personal growth journey. I utilized this page myself to create my own list of 100 life goals, which I dedicated a decade to pursuing.
Chief Editor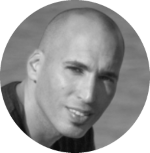 Tal Gur is an author, founder, and impact-driven entrepreneur at heart. After trading his daily grind for a life of his own daring design, he spent a decade pursuing 100 major life goals around the globe. His journey and most recent book, The Art of Fully Living, has led him to found Elevate Society.