Sometimes it feels like life is testing us. Do we want what we want badly enough?
A quick story from last week: Cars were never my thing, but one car has always caught my attention - The BMW Mini.
So when my trip to Spain was finalized, I took the opportunity and reserved a Mini from one of the car rental companies. I've never driven one before so I was quite excited.
But you know what they say about plans... When I arrived to the car rental counter the receptionist informed me that they ran out of Minis. They, however, decided to upgrade me to an Audi.
I did not want an Audi, I wanted a Mini! Nothing helped. Reluctantly, I accepted their offer, took the keys and went to the parking area to get my rental.
Life has a funny way of screwing around with you. When I arrived, a Mini has JUST been returned. What are the chances?
So I rushed to the car rental office and demanded that car.
The manager refused unless I pay double the price. Reason: That Mini was a convertible.
I argued but again, nothing helped. So I stand there, about to make a choice: An Audi - a better car some would argue but not what I dreamed about - or, a BMW Mini - with a double price tag.
I literally stood there for a while, can't make my mind. I felt like a sucker, like the car rental is playing with me.
Then, I took a deep breath, chose my Mini dream, and to hell with the price tag.
What can I say? if you've never driven a convertible, put it on your life - preferably on a warm sunny day! I've never before had such fun driving.
Perhaps more importantly, the lesson for me is clear - Go after your dream, even if life throws unexpected obstacles your way. It may just be a test of your faith and will.
-
Previous share: The Art of Waiting
Founder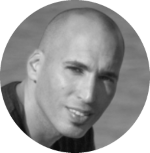 Tal Gur is a location independent entrepreneur, author, and impact investor. After trading his daily grind for a life of his own daring design, he spent a decade pursuing 100 major life goals around the globe. His most recent book and bestseller, The Art of Fully Living - 1 Man, 10 Years, 100 Life Goals Around the World, has set the stage for his new mission: elevating society to its abundance potential.