Bringing the exploration inside
I was always a curious kid, asking questions about everything. That curious nature is still there nowadays and it led me to explore many cultures and exotic countries: India, Indonesia, Peru, Nepal, Brazil, Costa Rica, and the list goes on and on.
The more I explore outside, the more I am convinced that none of the answers to life's most difficult questions are out "there".
They are "in here."
Always have been.
Always will be.
The way I see it, one doesn't have to go to a mountaintop retreat and meditate all day in order to reach nirvana; Instead, he can pay attention to the experiences life presents him each every moment.
One doesn't have to get into an altered state in order to experience divinity, enlightenment, or whatever else you want to call it; She can experience it anywhere, if she just allow herself to do so.
And one doesn't have to let go of his or her desires; He or she can simply let them be, let them move through. Naturally. Freely.
The desire 'to have no desires' is actually a desire in itself... Nothing is "wrong" with desires. Suppressing them will only allow them to build up.
So instead of forcing, we can be more allowing, more flowing.
Instead of constantly searching for extraordinary, we can embrace the ordinary.
Some of the happiest, most peaceful, most loving people I've ever met are ordinary and simple beings who have a deep appreciation for life and what it brings.
They don't think of themselves as special or spiritual, they don't spend much time speaking about their beliefs, and they don't have an intention to read all the sacred texts out there.
They are simply grateful people.
At the end of the day, the ultimate gift in life is life itself.
-
Previous share: Redefining Success
***
*To obtain more inspiration and motivation to achieve your goals, you definitely want to check out my extensive list of growth goals. This page contains SMART goal ideas that can help you establish new aspirations and attain greater heights in your personal growth journey. I utilized this page myself to create my own list of 100 life goals, which I dedicated a decade to pursuing.
Chief Editor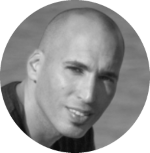 Tal Gur is an author, founder, and impact-driven entrepreneur at heart. After trading his daily grind for a life of his own daring design, he spent a decade pursuing 100 major life goals around the globe. His journey and most recent book, The Art of Fully Living, has led him to found Elevate Society.