If I had to define Facebook, I'd call it a platform of Fairyland Reality.
My FB profile tells me that I have 3000+ Friends. Hmm...
My photos show a rosy life with very little stress of any kind.
My About section communicates a discriminatory story of a successful entrepreneur.
Yes, it's true, I achieved a lot in life and had the incredible privilege to travel the globe. But, what Facebook doesn't tell so well is that I had my share of struggles as well. As a matter of fact, if I were to make a list of all my disappointments, I'd never get to the end.
We live in an age, where it's so easy to fall into the trap of romanticizing or idealizing one's affairs. In fact, with the amount of online sharing and virtual profiles, it's nearly impossible not to fall into that trap.
Solutions?
Closing all your social media accounts, posting unhappy moment photos, and constantly unfriend people you have not been in touch with for a while.
Let's admit. Not the most practical, nor effective, solutions.
The best answer, I believe, lies between our ears, in our own perception of the virtual game.
What happens in the virtual world is... well, virtual.
It will always show glimpses of reality. Never the full story.
So, next time we scroll through all our various social media channels, and see a well-executed video by a well-known expert/coach/"guru" giving a fascinating insight into life, we practice gratitude but we don't idealize the messenger. Their life is by all means not perfect.
Next time, we see an Instagram photo of a healer/Yogi/"wellness-warrior" dressed in perfect white yogi clothes, sitting on a stone bench, performing some meditative action, we take it in but we know it's only a glimpse of what was happening.
Here's my point: The online world is hyped to the point of being a joke.
Explore it, learn from it, get inspired, hell even become a digital zombie for a bit.
BUT, and this is A big "but" here, know the online world is merely a snapshot.
The bigger picture is always behind the screen.
-
Previous share: Bringing the exploration inside
***
* To gain more inspiration and motivation for your personal growth journey, I recommend visiting my SMART goals page, which offers a wide range of goal ideas to help you establish new aspirations and achieve greater success in life. This list was crucial in the development of my own life goals list, consisting of 100 goals that I pursued for ten years.
Chief Editor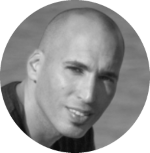 Tal Gur is an author, founder, and impact-driven entrepreneur at heart. After trading his daily grind for a life of his own daring design, he spent a decade pursuing 100 major life goals around the globe. His journey and most recent book, The Art of Fully Living, has led him to found Elevate Society.