Creating your future from the future—not from your past
When you look into your future, are you carrying the past with you?
The most limiting thing in life is the story we've been telling ourselves—that narrative we've been holding onto over and over.
What if it's all an illusion in our head?
In my years serving as a mentor and through my own personal journey, I've seen it happen again and again. We want change, we want growth, but we keep carrying our old identities with us.
We are conditioned to see life as a linear route, instead of recognizing that
...every moment is a new rebirth.
...every moment is a new life in itself.
...every moment is an opportunity to tell a brand new story.
Create your future from the future.
Not from your past.
-
Previous share: Facebook or Fairyland?
***
* If you're looking for more inspiration to help you on your personal development journey, you may want to check out my extensive list of SMART goals. This page is packed with thousands of different goal ideas that can help you set new aspirations and reach higher heights in your life. Personally, this page helped me to create my own 100 life goals list, which I pursued for over a decade.
Chief Editor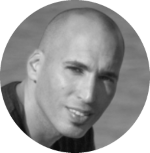 Tal Gur is an author, founder, and impact-driven entrepreneur at heart. After trading his daily grind for a life of his own daring design, he spent a decade pursuing 100 major life goals around the globe. His journey and most recent book, The Art of Fully Living, has led him to found Elevate Society.