I first heard the phrase "heart above head" in a random yoga class. The young teacher highlighted that some Yoga postures are designed not only to stretch and relax muscles but also to place our hearts above our heads.
Examples include: The famous Downward-Facing Dog, Child's Pose, and my favorite posture these days: inversions. The inversion postures in particular have remarkable benefits for improved blood flow and oxygenation. But not only, inversions are brilliant for clearing the head and finding more balance with Heart and Mind.
Think of it this way, sometimes in our life, we get so caught up in our head that we forget that our heart has the ability to speak to us as well.
Placing our hearts above our heads from time to time reminds us that what matters in life is not just to DO well but also to LOVE well...
-
Previous share: Creating your future from the future
Chief Editor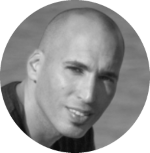 Tal Gur is an author, founder, and impact-driven entrepreneur at heart. After trading his daily grind for a life of his own daring design, he spent a decade pursuing 100 major life goals around the globe. His journey and most recent book, The Art of Fully Living, has led him to found Elevate Society.