how much time do you allocate for fun and celebration?
In the past, I may have prioritized things differently but nowadays I put my joy and feeling good first. Goals and everything else come second.
Putting goals second might sound strange coming from a guy who made it his life's mission to pursue every big dream he had.
Strange, but not a contradiction.
From my experience, pursuing goals FROM a place of joy (vs. FOR joy) yields better results.
When we unchain our idea of happiness and joy from the goal process altogether, we tend to experience a true sense of freedom. Since our joy is not dependent on a particular outcome anymore, our fear of failure diminishes, and we're able to take bolder actions.
Better results. Less fear. Bolder actions. That's what I call win-win-win.
Previous share: Heart Above Head
***
*To obtain more inspiration and motivation to achieve your goals, you definitely want to check out my extensive list of growth goals. This page contains SMART goal ideas that can help you establish new aspirations and attain greater heights in your personal growth journey. I utilized this page myself to create my own list of 100 life goals, which I dedicated a decade to pursuing.
Chief Editor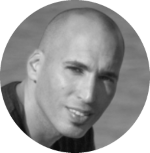 Tal Gur is an author, founder, and impact-driven entrepreneur at heart. After trading his daily grind for a life of his own daring design, he spent a decade pursuing 100 major life goals around the globe. His journey and most recent book, The Art of Fully Living, has led him to found Elevate Society.