When we make large and small decisions, our thinking mind usually takes center stage. It plans and schemes and constructs solutions to maintain a sense of security and control.
An ancient Asian proverb helps us understand the trap we fall into when we over-rely on our mind: It's an excellent servant, but a terrible master. The thinking mind only knows how to specify, categorize, and rationalize. To go beyond, we need to turn away from our incessantly chatty minds and listen to that voice deep within.
When I struggled in my marriage a few years ago, that inner voice had been calling my name. It kept coming back to me, saying, No. Stop. This isn't right!, urging me to change course. It was only when I decided to fully embrace my intuitive knowing, rather than solely relying on the logical part of my brain, that I discovered my path.
As the doors of intuition swung open before me, I knew that in order to set myself back on the right path, it was not enough to change my physical environment. I needed to transform my life from the inside out.
The only question was HOW… How was I going to embrace my intuition despite the fears and my mind's continuous need for certainty?
This was a "mind question," of course. The thinking mind wants the step-by-step, procedural answers, and it's extremely uncomfortable with unknowns. A better question might be: Was I willing to go beyond the thinking mind and fully embrace the present-moment intuition?
As Osho once said, intuition is a jump. It arises suddenly from our unconscious, at lightning speed, and only in the here-and-now. That's quite a contrast to the slower thinking mind that prefers to work in linear, gradual steps.
While there might not be a step-by-step manual for intuition, the good news is that it can be cultivated with practice.
Tapping into Your Inner Guidance
Have you ever had a flash of insight about something, but then your mind went on to contradict that intuition?
This seeming conflict is quite normal; our thinking mind is masterful at turning our attention away from things that don't fit our preconceived notions and mental models. It overlooks what it can't grasp and, instead, holds on to the known and familiar.
Unfortunately, most of us are completely out of touch with our intuition and the inner guidance that is always readily available to us. We allow constant distraction and the outside noise of others' opinions to block out our inner voice like radio static.
Our first step, therefore, is to create space around our thoughts and bring more stillness into our lives. This can be done through meditation, yoga, nature walks, or setting an hour or so aside each morning for free writing—that is, writing without thinking and just putting down on paper the first thing that comes up. Over time, we start to gain access to our inner world and its wisdom.
Creating space and listening to intuition is important, but it's only the first step. To tap into our intuition, we need to start cultivating and using it more, something which is not always simple, considering the complexities associated with decision-making.
In the concluding chapter of his book "Thinking, Fast and Slow," Daniel Kahneman, winner of the Nobel Memorial Prize in Economic Sciences, says that intuition is a skill that can be developed and refined. With repeated practice in using our intuition, our choices will become more and more aligned with our inner knowing. It's like a muscle that requires constant exercise.
Another astounding discovery of Daniel Kahneman is the powerful effect of mood on intuitive performance. He found that putting participants in a good mood before a task that required an intuitive decision more than doubled the accuracy. As he succinctly put it, when we are uncomfortable and unhappy, we lose touch with our intuition.
This is not to say that the slower thinking mind is not valuable. On the contrary, its role is critical to many of our vital tasks, including making comparisons, calculations, and reasoning with logic. Our mind can also observe systematic biases in our decision-making and collect more information or evidence when required.
Tapping into intuition is the result of simply slowing down, recognizing patterns in a situation, and drawing upon previously learned lessons to arrive quickly at a decision. Like many things in life, balance is key
***
The above is an excerpt from my book, The Art of Fully Living. Make sure you're on the email list for the opportunity to receive additional bonuses.
***
* If you're looking for more inspiration to help you on your personal development journey, you may want to check out my extensive list of SMART goals. This page is packed with thousands of different goal ideas that can help you set new aspirations and reach higher heights in your life. Personally, this page helped me to create my own 100 life goals list, which I pursued for over a decade.
Chief Editor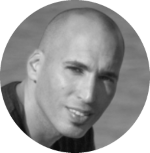 Tal Gur is an author, founder, and impact-driven entrepreneur at heart. After trading his daily grind for a life of his own daring design, he spent a decade pursuing 100 major life goals around the globe. His journey and most recent book, The Art of Fully Living, has led him to found Elevate Society.