57 Top Quotes From You Are a Badass
What is You Are a Badass About?
You Are a Badass is an entertaining how-to guide about how to create the life we love and change self-sabotaging beliefs that stop us from getting what we want.
You are a Badass is about getting clear about what makes us happy and what makes us feel the most alive, and then, creating it instead of pretending we can't have it. Or that we don't deserve it. (You Are a Badass Summary)
You Are a Badass Quotes

ELEVATE
Free Resource: A step-by-step blueprint to help you set and realize big dreams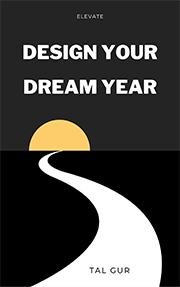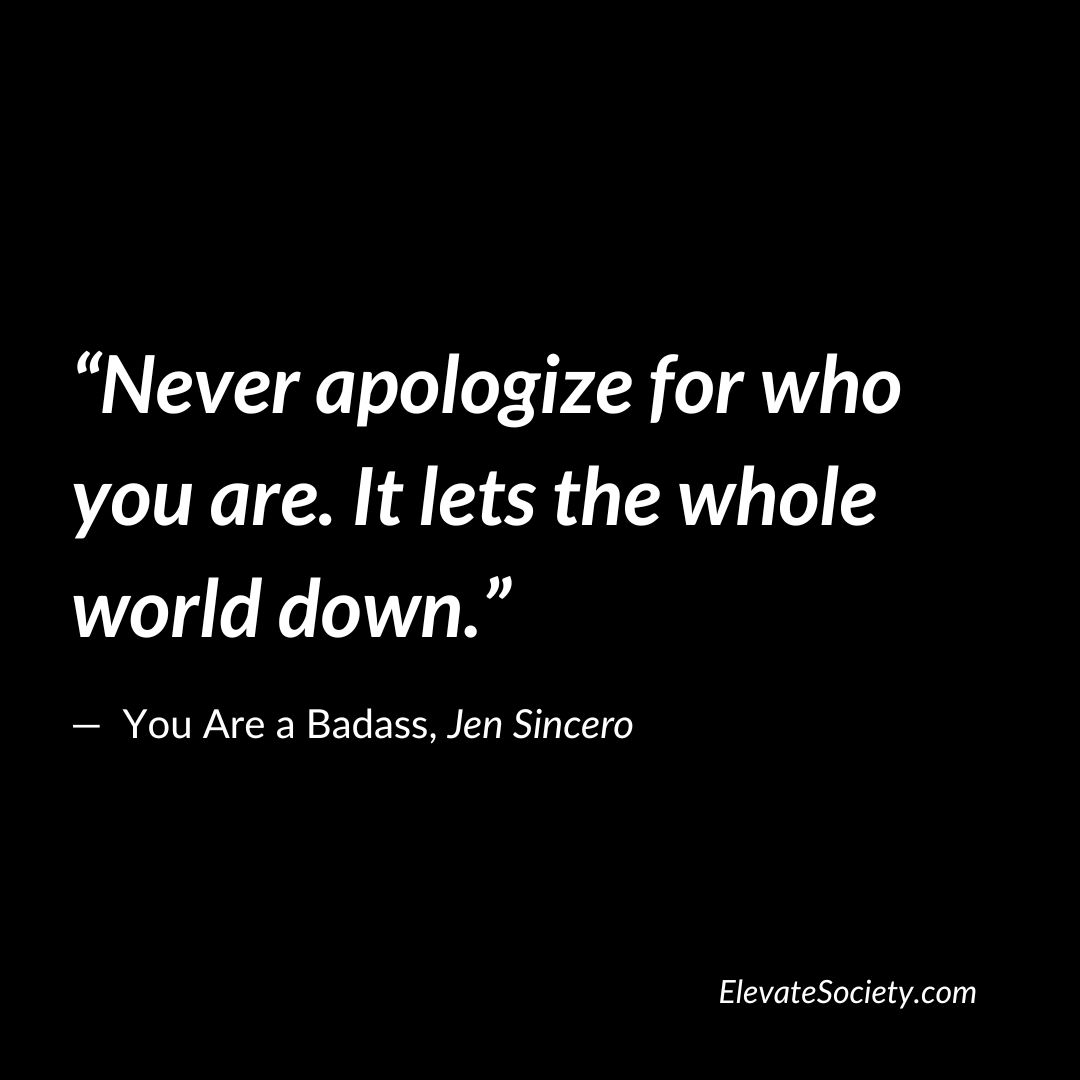 [Favorite Quote]: "Never apologize for who you are. It lets the whole world down." (Meaning)
2. "What other people think about you has nothing to do with you and everything to do with them."
3. "Your life is your party. You get to choose how you invite people and experiences and things into it."
4. "If you're serious about changing your life, you'll find a way. If you're not, you'll find an excuse."
5. "The only failure is quitting. Everything else is just gathering information."
6. "You are perfect. To think anything less is as pointless as a river thinking that it's got too many curves or that it moves too slowly or that its rapids are too rapid"
7. "In order to kick ass you must first lift up your foot. "
8. "You are responsible for what you say and do. You are not responsible for whether or not people freak out about it."
9. "We only get to be in our bodies for a limited time, why not celebrate the journey instead of merely riding it out until it's over?"
10. "You're on a journey with no defined beginning, middle or end. There are no wrong twists and turns. There is just being. And your job is to be as you as you can be. This is why you're here. "
11. "Follow what feels good in the moment, every moment, and it will lead you through a most excellent life."
12. "To shy away from who you truly are would leave the world you-less. You are the only you there is and ever will be. I repeat, you are the only you there is and ever will be. Do not deny the world its one and only chance to bask in your brilliance."

ELEVATE
Free Resource: 1000+ SMART goal ideas to inspire you create your life goals list.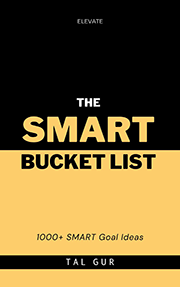 13. "The better our bodies feel, the happier and more productive we are."
14. "If you base your self-worth on what everyone else thinks of you, you hand all your power over to other people and become dependent on a source outside of yourself for validation. "
15. "Take care of yourself as if you're the most awesome person you've ever met."
16. "So often, we pretend we've made a decision, when what we've really done is signed up to try until it gets too uncomfortable."
17. "If you put your disbelief aside, roll up your sleeves, take some risks, and totally go for it, you'll wake up one day and realize you're living the kind of life you used to be jealous"
18. "If you are depressed, you are living in the past. If you are anxious, you are living in the future. If you are at peace, you are living in the present."
19. "When we say we're unqualified for something, what we're really saying is that we're too scared to try it,"
20. "Nobody who ever accomplished anything big or new or worth raising a celebratory fist in the air did it from their comfort zone. They risked ridicule and failure and sometimes even death."
21. "The people you surround yourself with are excellent mirrors for who you are and how much, or how little, you love yourself."
22. "Our thoughts become our words, our words become our beliefs, our beliefs become our actions, our actions become our habits, and our habits become our realities."
23. "Making a big fat deal out of anything is absurd. It makes much more sense to go after life with a sense of, "Why not?"
24. "Hang out with people who are living on purpose, who meet their challenges with a step aside, suckers attitude, who are dating super awesome people, making exactly the kind of money they want to be making"

ELEVATE
Free Resource: A step-by-step process for a better relationship with social media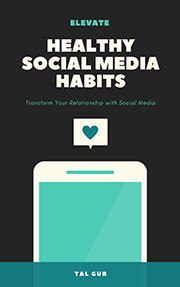 25. "There will never be anyone exactly like you. You were given special gifts and talents to share with the world, and even though everybody has special gifts and talents, nobody will use theirs quite the same way you do."
26. "When you are consistently in a state of gratitude, and aware of all the awesomeness that already exists, it, among many other things, makes it much easier for you to believe that there's more awesomeness where that came from"
27. "If you wanna stay stuck in the same place and keep getting spanked with the same lessons over and over, be negative, resentful, and victimized. "
28. "Surrendering is the free-falling backwards into the unknown and trusting that The Universe will catch you."
29. "Your job isn't to know the how, it's to know the what and to be open to discovering, and receiving, the how."
30. "What you choose to focus on becomes your reality."
31. "Our greatest fears are the greatest waste of time."
32. "You need to go from wanting to change your life to deciding to change your life."
33. "Forgiveness is all about taking care of you, not the person you need to forgive. It's about putting your desire to feel good before your desire to be right."
34. "What you tell yourself on a daily basis is more powerful than you know. Seemingly harmless jokes, over time, turn into seriously destructive beliefs."
35. "Comparison is the fastest way to take all the fun out of life."
36. "When we share what we were brought here to give, we are in alignment with our highest, most powerful selves."
37. "It's just as easy to believe we're awesome as it is to believe we're giant sucking things."
38. "Deciding means jumping in all the way, doing whatever it takes, and going after your dreams with the tenacity of a dateless cheerleader a week before prom night."
39. "Release all expectations, let everyone off the hook, treat people as a blank slate over and over again, expect only the best from them regardless of what they've done in the past"
40. "We tiptoe through life hoping to safely make it to death."
41. "Stop talking about how busy you are. Focus on what you enjoy about what you do and the spaces in between the doing instead of feeling weighed down by it all. "
42. "Once you've truly forgiven someone, wipe the slate clean. So often we form judgments about people and then, no matter what they do, we see them through the lens of that judgment. Which means we're just waiting for them to piss us off again. "
43. "An epiphany is a visceral understanding of something you already know."
44. "Life is an illusion created by your perception, and it can be changed the moment you choose to change it."
45. "You created the reality you now exist in with your thoughts, which means you can use the very same power of thought to change it."
46. "When we're in fear, we hold on to what we've got because we don't trust that there's more. We pinch off the energy, we're scared to share, and we focus on, and create more of, the very thing we're hoping to avoid, which is lack. "
47. "Holding on to resentment is like taking poison and waiting for your enemies to die."
48. "The money you want already exists; the person you want to meet is already alive; the experience you want to have is available, now; "
49. "Our fantasies are our realities in an excuse-free world."
50. "It was about no longer being the kind of person who takes what she can get, and finally becoming the kind of person who creates exactly what she wants."
51. "Surrendering isn't about what you do, but who you're being as you do it."
52. "When you love yourself enough to stand in your truth no matter what the cost, everyone benefits."
53. "The Universe will match whatever vibration you put out. And you can't fool The Universe."
54. "You aren't a better person for feeling guilty or bad about yourself, just a sadder one"
55. "People who are successful are not only willing to get uncomfortable, but they know they have to make a habit of it if they want to stay successful."
56. "Love yourself and life becomes a party."
57. Love yourself more than you love your drama."
― Quotes from the book You Are a Badass by Jen Sincero
Who is the Author of You Are a Badass?
Jen Sincero is a a New York Times bestselling author, success coach and motivational cattle prod. As a highly sought-after speaker, Jen has shared her signature brand of motivational comedy with everyone from women entrepreneurs to multi national corporations to non-profits to educational institutions to her mom's book group.
Chief Editor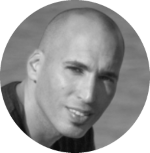 Tal Gur is an author, founder, and impact-driven entrepreneur at heart. After trading his daily grind for a life of his own daring design, he spent a decade pursuing 100 major life goals around the globe. His journey and most recent book, The Art of Fully Living, has led him to found Elevate Society.