Think & Grow Rich: Summary Review & Takeaways
This is a summary review of Think & Grow Rich containing key details about the book.
What is Think & Grow Rich About?
Think and Grow Rich is a personal development and self-improvement book. The book shows some simple basic techniques for lasting success and contains the habits and secrets of many successful great men.

ELEVATE
Free Resource: A step-by-step blueprint to help you set and realize big dreams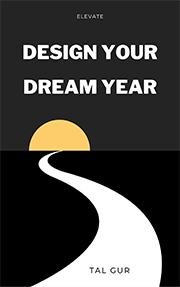 While the book's title and much of the writing concerns increasing income, the author proclaims that his philosophy can help people succeed in any line of work, to do and be anything they can imagine.
Think and Grow Rich is based on Hill's earlier work and is the result of more than twenty years of study of many individuals who had amassed personal fortunes. Hill studied their habits and drew some 16 "laws" to be applied to achieve success. Think and Grow Rich condenses them, providing the reader with 14 principles in the form of a "Philosophy of Achievement".
Who is the Author of Think & Grow Rich?
Oliver Napoleon Hill was an American self-help author. He is best known for his book Think and Grow Rich, which is among the 10 best-selling self-help books of all time. Hill's works insisted that fervid expectations are essential to improving one's life.
What are key takeaways from Think & Grow Rich?
This motivational yet practical workbook is an enhanced version of Think and Grow Rich by Napoleon Hill that has been designed to specifically help consultants and knowledge based workers find their fame and fortune in 13 steps. It is a workbook rather than a fictional walk in the park so get ready to put pen to paper and change your life.
Takeaway #1 Why Do You Want To Be Rich?
If you aspire to be rich you need to get clear on how much money you want, what you want the money for, and by when. Think about the real reasons for wanting to be rich (to help people?), as well as the more superficial ones (because you want the lavish lifestyle with a mansion, yacht, and supercar?).
Your desire to be rich must be strong enough and you must have unwavering faith in yourself and your abilities otherwise the hurdles that get put in your way will stop you rather than spur you on. Remember, every rags to riches story has failure before fortune, do you want this badly enough?
Takeaway #2 The Success Principles of Thinking and Growing Rich
Plan How To Achieve Your Goals – Get precise on what you want, how you'll achieve it, and set a deadline. Your plan should list every single small step and action you'll take to achieve your goal, and be something you work on diligently.
Influence Yourself – Read your plan out loud twice a day and make sure you have full faith in yourself. Having faith in yourself may be something you need to increase, this is where auto suggestion comes into play. It's a method of influencing your subconsciousness by focusing on very specific thoughts and ideas so that you are able to convince yourself that you can do this – If you can think it, you can do it.
Knowledge = Power – If you instantly thought of knowledge as meaning you'll have to go back to school, think again. Getting an education does not have to mean getting letters after your name and a heap of certificates that impress people. Just think what Henry Ford, Richard Branson, and Sir Alan Sugar have all achieved, without attending university.
Grow Your Self Awareness – Know what you're good at, and what you're not so good at whether that's numbers, words, talking with people, or tech. Do an internal check-up on yourself as well as getting insider insight from those closest to you. Knowing where you need help makes you stronger, not weaker.
Stay Positive – You need to continually feed your subconsciousness mind positive things rather than getting caught in the spiral of negativity. Consider what brings you down and see if you can eliminate that thing or person from your life and where you can increase love, enthusiasm, and positivity for your work as well as your life. Sometimes it's better to keep your dreams and goals to yourself so that others cannot crush them.
Persist & Endure – Lack of determination is the key to failure so make sure you're stubborn about achieving your goals without being so stubborn that you become inflexible and the goal snaps in two! When obstacles come up, find ways to overcome them.

ELEVATE
Free Resource: 1000+ SMART goal ideas to inspire you create your life goals list.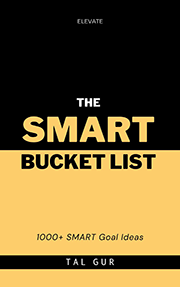 Surround yourself with a support group of smart people to help you keep the dream alive and overcome obstacles along the way.
Takeaway #3 Get To Work!
Grab your pen, answer the questions, and do the 50+ exercises in the workbook as you start applying the principles in your own life.
Your answers will help you put together your very own Rich Consultant Action Plan, a personalized strategy made up of tasks and tactics that ensure you fully understand the principles and how you can apply them in your own life. It's up to you how far you proceed along the road to riches, the sky really is the limit when you deploy your knowledge, skills, and experience.
Book details
Print length: 233 Pages
Audiobook: 9 hrs and 35 mins
Genre: Nonfiction, Personal Development, Psychology, Money, Personal Finance
What are the chapters in Think & Grow Rich?
Chapter One - Introduction: Too Much Wisdom
Chapter Two - Desire: The Starting Point of All Achievement
Chapter Three - Faith Visualization of And Belief in Attainment of Desire
Chapter Four - Auto-Suggestion: The Medium for Influencing the Subconscious Mind
Chapter Five - Specialized Knowledge: Personal Experiences or Observations
Chapter Six - Imagination: The Workshop of the Mind
Chapter Seven - Organized Planning: The Crystallization of Desire Into Action
Chapter Eight - Decision: The Mastery of Procrastination
Chapter Nine - Persistence: The Sustained Effort Necessary to Induce Faith
Chapter Ten - Power of the Master Mind: The Driving Force
Chapter Eleven - Sex Transmutation: The Mystery of Sex Transmutation
Chapter Twelve - The Subconscious Mind: The Connecting Link
Chapter Thirteen - The Brain: A Broadcasting and Receiving Station for Thought
Chapter Fourteen - The Sixth Sense: The Door to the Temple of Wisdom
Chapter Fifteen - How to Outwit the Six Ghost of Fear
What are some of the main summary points from the book?
Here are some key summary points from the book:
The power of thought: The book emphasizes the role of our thoughts in shaping our reality. Hill suggests that our thoughts can either lead us to success or hold us back. By harnessing the power of positive thinking, one can attract wealth and achieve their goals.
Definiteness of purpose: Hill emphasizes the importance of having a clear and specific goal or purpose in life. He suggests that by defining your goals and consistently working towards them, you can increase your chances of success.
The mastermind principle: Hill introduces the concept of the mastermind, which refers to a group of like-minded individuals who come together to support and inspire each other. By collaborating with others and tapping into their collective knowledge and resources, one can accelerate their success.
Persistence: Hill emphasizes the importance of persistence in the face of challenges and setbacks. He believes that successful individuals never give up and continue to pursue their goals with unwavering determination.
Auto-suggestion: The book discusses the concept of auto-suggestion, which involves using affirmations and positive self-talk to reprogram the subconscious mind. By repeatedly affirming your goals and desires, you can align your thoughts with your desired outcomes.
The power of belief: Hill emphasizes that having unwavering belief in oneself and in the attainment of one's goals is crucial for success. By cultivating a strong belief in your abilities and visualizing your success, you can manifest it into reality.
Specialized knowledge: The book suggests that acquiring specialized knowledge in a particular field can lead to success and wealth. Hill encourages readers to continuously learn and improve their skills to stay ahead in their chosen field.
The importance of taking action: Hill emphasizes that mere thoughts and desires are not enough; taking consistent and focused action is essential for achieving success. He encourages readers to develop a proactive mindset and to seize opportunities when they arise.
What are good quotes from Think & Grow Rich?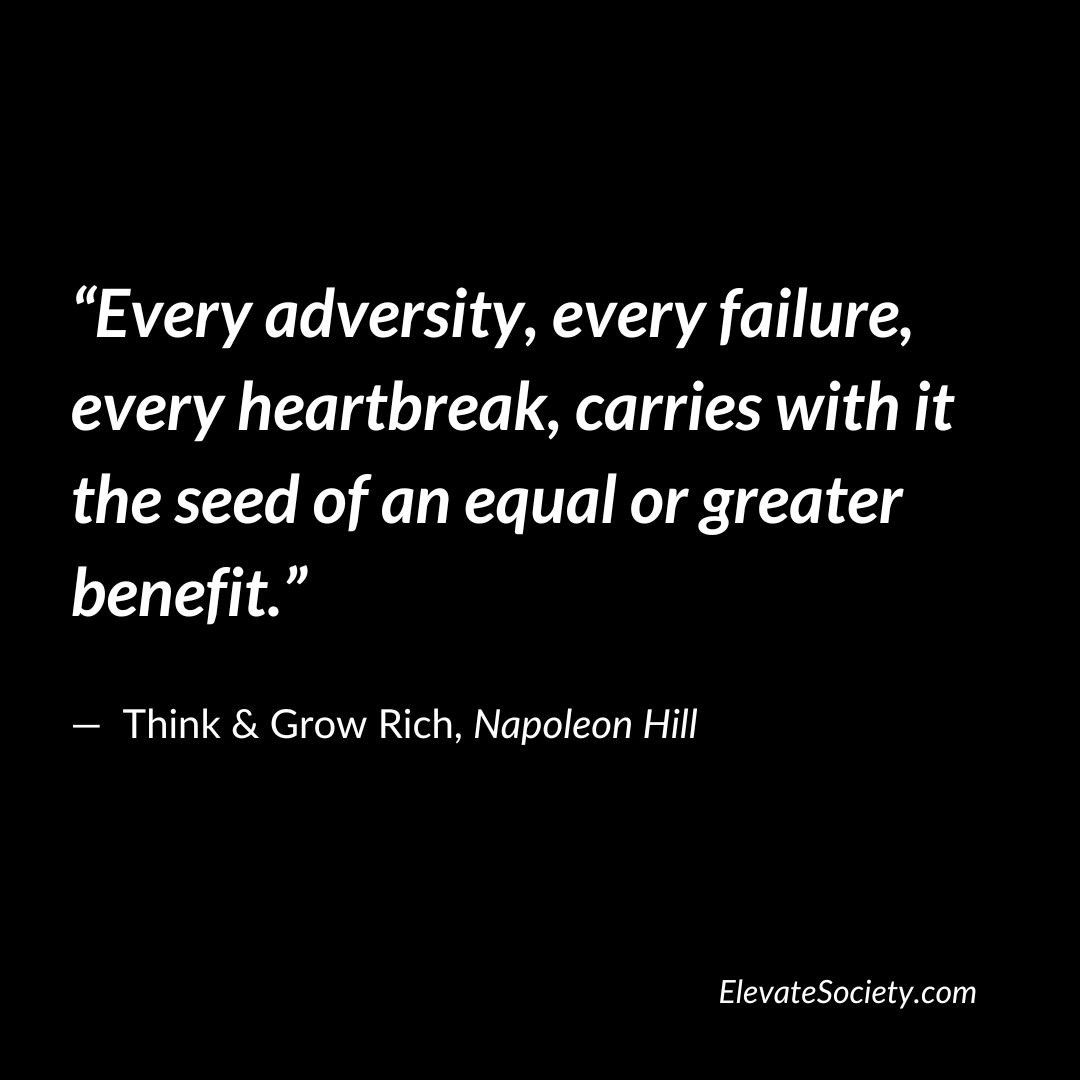 [Favorite Quote]: "Every adversity, every failure, every heartbreak, carries with it the seed of an equal or greater benefit." (Meaning)
"More gold had been mined from the mind of men than the earth itself"
― Napoleon Hill - Think & Grow Rich Quotes
What do critics say?
Here's what one of the prominent reviewers had to say about the book: "During the past twenty-five years I have been blessed with more good fortune than any individual deserves but I shudder to think where I'd be today, or what I'd be doing if I had not been exposed to Napoleon Hill's philosophy. It changed my life." — Og Mandino, The Greatest Salesman in the World
* The summary points above have been concluded from the book and other public sources. The editor of this summary review made every effort to maintain information accuracy, including any published quotes, chapters, or takeaways
Chief Editor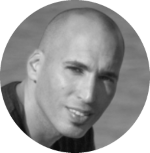 Tal Gur is an author, founder, and impact-driven entrepreneur at heart. After trading his daily grind for a life of his own daring design, he spent a decade pursuing 100 major life goals around the globe. His journey and most recent book, The Art of Fully Living, has led him to found Elevate Society.