26 Famous Quotes by Sylvester Stallone
Sylvester Stallone is an American actor, writer, and director, best known for his roles in the Rocky and Rambo franchises. (Sylvester Stallone Story).
Sylvester Stallone Famous Quotes
1. "There's a natural law of karma that vindictive people, who go out of their way to hurt others, will end up broke and alone."
2. "For 'Rocky II,' I got a torn pectoral muscle, I got all beat up inside, I had to have an operation to splice things back together."
3. "I am not the richest, smartest or most talented person in the world, but I succeed because I keep going and going and going."
4. "Once in one's life, for one mortal moment, one must make a grab for immortality; if not, one has not lived."
"5. I've been involved in something which was chaotic and insane. All I can say now is that I am, and intend to stay, a single man."
"6. Clothing is the first step to building a character."
7. "When I'm doing a movie, I eat the same thing every day. For lunch, it's tuna salad or chicken salad and cole slaw. That's it. For dinner it's either veal and rice, fish and rice or steak and rice. It gets boring; boy, does it get boring."
8. "If you express yourself too much, you're considered weak."
9. "I believe an artist dies twice. The first time, it's just terrible - I've been there when the phone isn't ringing for years."
10. "I have tons of regrets, but I think that's one of the reasons that push people to create things. Out of their angst, their regret, comes the best from artists, painters and writers."
11. "When I saw 'Hercules,' my mind just exploded because I was extremely thin; I was insecure. I literally ran out of the theatre and started lifting things, anything I could think of - milk crates. I'm still lifting things. It changed my life."
12. "If you look at people that have survived crashing in the mountains and lived up in the snow for 40 days - it's possible to do extraordinary feats."
13. "Don't be gullible, use life before it uses you. Understand there are no free lunches, and for every action you take, there's a reaction."
14. "I try to combine in my paintings cinematic feeling, emotional feeling, and sometimes actually writing on the page to combine all the different elements of communication."
15. "When life hits you pretty hard, you can go into a dark corner."
16. "I believe any success in life is made by going into an area with a blind, furious optimism."
17. "Life is more than sunglasses and hit movies. Reality - that's the main event."
18. "I have all kinds of chest injuries; I tore my vein during 'Rocky II' and had 60 stitches. If you've seen 'Rocky Balboa,' you'll know how bad they look."
19. "Success is usually the culmination of controlling failure."
20. "I take rejection as someone blowing a bugle in my ear to wake me up and get going, rather than retreat."
21. "I'll always have this blue-collar connection. For every guy, there is an opportunity to be a lot better than he thought he could be. We can't all be the star of the team, but we can be a star in our life."
22. "I know I'm incredibly unpredictable, and that's the only thing I'm sure of."
23. "I tend to think of action movies as exuberant morality plays in which good triumphs over evil."
24. "I'm a patriot of the heart."
25. "I believe there's an inner power that makes winners or losers. And the winners are the ones who really listen to the truth of their hearts"
26. "It ain't about how hard you hit. It's about how hard you can get hit and keep moving forward"
― Sylvester Stallone Quotes About Life
Chief Editor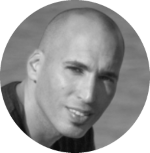 Tal Gur is an author, founder, and impact-driven entrepreneur at heart. After trading his daily grind for a life of his own daring design, he spent a decade pursuing 100 major life goals around the globe. His journey and most recent book, The Art of Fully Living, has led him to found Elevate Society.