Think Differently: Steve Jobs Story
I've just finished Steve Jobs biography by Walter Isaacson
, A very long (656 pages) and fascinating story about a creative genius whose vision transformed the computer world in the last half century.
It's also a detailed story about an egoistic and complex man who sought complete control of his environment. Despite all of the financial and artistic successes Jobs has had in his life, Isaacson paints a picture of an arrogant man who is quick to argue and demand his way.
If you ignore, however, the (fair) criticism of his controversial behavior, a truly remarkable and inspiring personality is revealed. Gifted with hypnotizing charisma, Jobs possessed unlimited vision and extraordinary passion for his work.
Steve Jobs rose above personal struggles to become one of the world's most successful innovators and businessmen. In many ways, his career has become a model and inspiration to young entrepreneurs.
When you read Steve Job's story you will find that Jobs success did not occur in a linear trajectory. Rather, he struggled and succeeded only to struggle and succeed again.
As you read his story you will be motivated to think about your own journey. Job's biography will help you realize that you too can achieve your goals by overcoming your struggles even when they seem to repeat themselves.
Jobs Zero-to-Hero Story
Steve Jobs was born in San Francisco in 1955 and adopted at birth by a couple named Paul and Clara Jobs. When asked about his parents, Jobs has always enthusiastically responded that Paul and Clara were his real parents.
Luckily, both of Steve's adopted parents were focused on the role of education and the difference it can make in their young son's life. Steve's mother Clara was an accountant and she taught Steve how to read before he even started Kindergarten. Paul Jobs, a machinist for a company that made lasers, taught his son electronics and how to work with his hands. He did little things that encouraged his son to be inquisitive and to always embrace learning. For instance, one day, Paul Jobs cleared off a section of his workbench and gave it to the young Steve. At that workbench, Steve was encouraged to take apart and reassemble devices to learn how they work.
Jobs frequented after-school lectures at the Hewlett-Packard Company in California. Later, along with Steve Wozniak (Apple's co-founder), Jobs was hired there as a Summer employee. Following high school graduation, Jobs enrolled at Reed College in Portland, Oregon and dropped out after only one semester. Steve continued attending classes at Reed, while sleeping on the floor at friends' houses, returning Coke bottles for food money, getting weekly free meals at the local Hare Krishna temple, and getting into drugs (Steve called his LCD drug experience one of the most enlightening experiences of his life).
Founding Apple
Jobs and Steve Wozniak met in 1971, when a mutual friend introduced 21 year-old Wozniak to 16 year-old Jobs. In 1976, when Jobs was only twenty-one, they invented the first Apple computer and founded Apple computer in Job's parents garage.
While Jobs was a persuasive and charismatic director for Apple, he was getting into power struggles frequently. In 1985, he was fired from his role as head of the Macintosh division by Apple's board of directors, and five months later, Jobs left the company.
In a speech Jobs gave at Stanford University, he said being fired from Apple was the best thing that could have happened to him; "The heaviness of being successful was replaced by the lightness of being a beginner again, less sure about everything. It freed me to enter one of the most creative periods of my life".
Founding NeXT & Pixar
After leaving Apple, Jobs founded NeXT Computer, which produced sophisticated workstations. Jobs tried to market NeXT products to the financial and academic community, highlighting its innovative new technologies. After a few years, after having sold only 50,000 machines, NeXT transitioned fully to software development. In 1996, NeXT, the company that Jobs had started with 7 million dollar was sold to Apple for 429 million in order to integrate its technologies into Apple's operating system.
A year after leaving Apple, in 1986, Jobs bought The Graphics Group which was later renamed Pixar for the price of 10 million dollar. After years of unprofitability it contracted with Disney to produce a number of computer-animated films that Disney would co-finance and distribute. Their first movie was Toy Story, which became an instant summer blockbuster, followed by ten more pitch-perfect gems such as Finding Nemo and A Bug's Life. In 2006, Disney had agreed to purchase Pixar in an all-stock transaction worth 7.4 billion dollars. Jobs became The Walt Disney Company's largest single shareholder owning seven percent of the company's stock.
Returning to Apple
In 1997, a year after Apple's merger with NeXT, Jobs was hired back as an interim CEO and the company started to branch out, introducing the iPod portable music player, iTunes digital music software, the iTunes Store, the Iphone mobile device and the IPAD tablet. Today, Apple is worth more than Intel And Microsoft combined, with a market value of around 300 billion dollars.
In August 2011, Jobs resigned as CEO of Apple and a few months later, he died of cancer after 8 years fighting the illness.
Last Words
For all of Steve Jobs faults, one cannot help but admire his life of dedication to his goals. In spite of great personal difficulties, Jobs achieved a level of business success that is truly rare. Jobs was able to make his dream a reality because he never stopped believing. He never gave up even when it seemed like the goal was unreachable . His goal was more than making money; he was deeply committed his vision of creating "insanely great" products. For me, Jobs Zero to Hero story is a perfect example of how vision and perseverance make dreams come true.
***
Steve Jobs Best Quotes
"Sometimes life hits you in the head with a brick. Don't lose faith."
"My favorite things in life don't cost any money. It's really clear that the most precious resource we all have is time."
What is Your Elevation Level?
TAKE THE TEST
"Be a yardstick of quality. Some people aren't used to an environment where excellence is expected."
"Sometimes when you innovate, you make mistakes. It is best to admit them quickly, and get on with improving your other innovations."
"Creativity is just connecting things. When you ask creative people how they did something, they feel a little guilty because they didn't really do it, they just saw something. It seemed obvious to them after a while. That's because they were able to connect experiences they've had and synthesize new things."
"I was lucky - I found what I loved to do early in life. Woz and I started Apple in my parents' garage when I was 20. We worked hard, and in 10 years, Apple had grown from just the two of us in a garage into a $2 billion company with over 4000 employees."
"I want to put a ding in the universe."
"Remembering that I'll be dead soon is the most important tool I've ever encountered to help me make the big choices in life. Because almost everything - all external expectations, all pride, all fear of embarrassment or failure - these things just fall away in the face of death, leaving only what is truly important."
"My biological mother later found out that my mother had never graduated from college and that my father had never graduated from high school. She refused to sign the final adoption papers. She only relented a few months later when my parents promised that I would someday go to college."
"Design is a funny word. Some people think design means how it looks. But of course, if you dig deeper, it's really how it works."
"A lot of companies have chosen to downsize, and maybe that was the right thing for them. We chose a different path. Our belief was that if we kept putting great products in front of customers, they would continue to open their wallets."
"When you're a carpenter making a beautiful chest of drawers, you're not going to use a piece of plywood on the back, even though it faces the wall and nobody will ever see it. You'll know it's there, so you're going to use a beautiful piece of wood on the back."
"Your time is limited, so don't waste it living someone else's life. Don't be trapped by dogma - which is living with the results of other people's thinking. Don't let the noise of others' opinions drown out your own inner voice. And most important, have the courage to follow your heart and intuition."
"You can't connect the dots looking forward; you can only connect them looking backwards. So you have to trust that the dots will somehow connect in your future. You have to trust in something - your gut, destiny, life, karma, whatever. This approach has never let me down, and it has made all the difference in my life."
"For the past 33 years, I have looked in the mirror every morning and asked myself: 'If today were the last day of my life, would I want to do what I am about to do today?' And whenever the answer has been 'No' for too many days in a row, I know I need to change something."
"Remembering that you are going to die is the best way I know to avoid the trap of thinking you have something to lose. You are already naked. There is no reason not to follow your heart."
"Design is not just what it looks like and feels like. Design is how it works."
"Stay hungry, stay foolish."
"You can't just ask customers what they want and then try to give that to them. By the time you get it built, they'll want something new."
"It's not a faith in technology. It's faith in people."
"I didn't see it then, but it turned out that getting fired from Apple was the best thing that could have ever happened to me. The heaviness of being successful was replaced by the lightness of being a beginner again, less sure about everything. It freed me to enter one of the most creative periods of my life."
"An iPod, a phone, an internet mobile communicator... these are NOT three separate devices! And we are calling it iPhone! Today Apple is going to reinvent the phone. And here it is."
"We made the buttons on the screen look so good you'll want to lick them."
"A lot of people in our industry haven't had very diverse experiences. So they don't have enough dots to connect, and they end up with very linear solutions without a broad perspective on the problem. The broader one's understanding of the human experience, the better design we will have."
"We don't get a chance to do that many things, and every one should be really excellent. Because this is our life. Life is brief, and then you die, you know? So this is what we've chosen to do with our life."
Chief Editor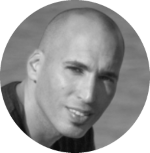 Tal Gur is an impact-driven entrepreneur, author, and investor. After trading his daily grind for a life of his own daring design, he spent a decade pursuing 100 major life goals around the globe. His journey and most recent book, The Art of Fully Living - 1 Man, 10 Years, 100 Life Goals Around the World, has led him to found Elevate Society.